Un font is a collection of characters that have common characteristics. There are many types of fonts for normal characters (Latin alphabet) straighter, thinner, taller, thicker, etc.. or fonts for mathematical symbols, Greek letters, Cyrillic, etc.. and those of different types. Supported fonts Windows are called fonts true Type. Fonts are chosen according to how you want highlight some text. In WordBesides the desired font choice, more must be given the writing used commonly called font style, font size on (normal, Bold, inclined, stressed) And size characters. Some examples of font names: Arial, Courier New, Times New Roman and so on The most commonly used font styles are: Regular, Sting, ItalicAnd Bold-Italic. In addition, some fonts may have styles that Light, Extra Bold, Heavy and so on Font size is measured in points: ... 8, 10, 12 .... (1 point = 1 / 72 inch). Characters used for formatting and their characteristics using the scroll boxes Style, Font Si font Size and buttons Sting, Italic, Underline, On the toolbar Formatting or order Font menu Format.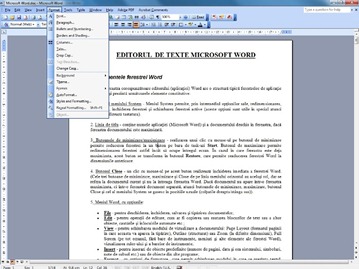 After launching its execution will display a dialog box containing three pages of options: Font, character Spacing si text Effects. Any option chosen from window Font or toolbar Formatting effect since its activation to deactivation by specifying other formatting features, or if a block of text is selected, refer to the content block. Thanks to simple, it is recommended to apply character formatting to selected text in advance.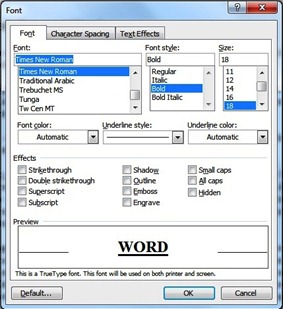 Significance fields page Font dialog box Font is:
list Font: Select desired font;

list font Style: Select font style choice;

list Size: Select font size chosen;

hidden list Font Color: Font color selection (there 16 default colors);

hidden list Style Underline: Specify the type of underscore characters: single, Only Words, Double, Dotted, Thick, Dash, Dot Dash, Dot Dot Dash, Wave;

hidden list Underline Color: Underline font color selection (there 16 default colors);

switches Effects: Applying special effects: Strikethrough, double Strikethrough, subscript, superscript, Shadow, Outline, Emboss, engrave, Small Caps, All Caps, Hidden ;

field Preview: Viewing font and selected characteristics;

button Default: Changing characteristics font from pattern normal.dot.
Group options character Spacing allows you to specify text spacing (Spacing By ...) and its vertical positioning (Position By ...), while the group through options text Effects list Animation user can apply to the text motion effects (a contour that changes color or turns a background blinking and so on).
Fonts and spellings in Word 2003