Google updated the collection of device applications Apple, Taking full advantage of new features introduced with release iOS 8. One of the beneficiaries messaging service gmail, Gained three new functions designed for efficient management emails. The first amendment, made by native iOS applications 8 example, allows us to respond or archive emails directly interacting with message notificationWithout wasting time surfing the app to take action. This function is particularly useful in cases where we already know the message subject and we know that we need to open the message to read it.
The second function aimed at managing and sending attachments. Now you can send almost any file as an attachment to email messages using the support for distributing files iOS 8Even without opening Gmail. Because this function is only required to be available activation gmail in the list of activities. The third change refers to the management of files received as attachments, which can be opened in Gmail using the associated iOS application, providing the entire visual experience and access to the functions of that application.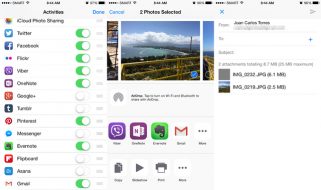 Along with gmail, Reached version 4.0They have been updated versions of applications for iOS Docs, sheets si Google DriveThey received only minor functions and other bug fixes.