O error especially common on PCAPIs / laptopURLs that OS Windows 10 si video card (dedicated video graphic card) NVIDIA GeForce Experience.
The error occurs when trying to do update the driver for NVIDIA. "Unable to connect to NVIDIA. Try again later". Basically this error makes it impossible for NVIDIA driver update Windows 10 the software interface.
How do we fix the update error for GeForce Experience on Windows 10
An easier option would be to go on the official website of nVidia and Download then install manual driver for your video card.
If we need to solve the error and make the functional update from the GeForce Experience interface, then we will have to follow some simple steps and make some changes to the services in the system. Windows Services.
1. First of all we will have to check if the service NVIDIA Network Service in the status "Running"In the list of services a Windows 10.
Open Task Manager (right-click on the workbar / TaskBar > Task Manager) And then go to the tab "Services". We list service "NVIDIA Network Service"And check their status. If other than "Running", right-click the service and click "Start" menu that opens.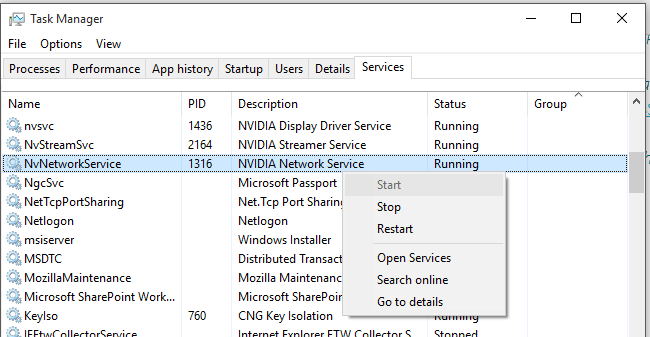 2. Go to the folder C: \ ProgramData \ NVIDIA Corporation \ Netservice \ and delete or rename the file NSManagedTasks.xml.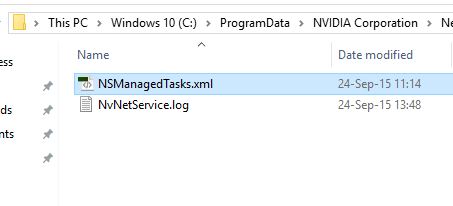 3. We go to Task Manager at "Details" and check if the process runs NVNetworkService.exe * 32.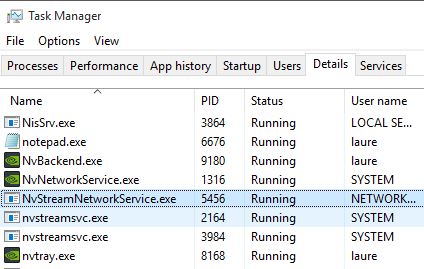 If this process does not appear in Task Manager, we go back to the service list and start the service NVIDIA Network Service.
After these steps, go GeForce Experience interface and start the update for the nVidia driver.
In our case the error occurred for the update "Game Ready Driver"NVIDIA ..
How To Fix GeForce Experience Update Error - Unable to connect to NVIDIA. Try again later.