If you are the only user of a PCProbably account you login to the system is not password protected. But if you have access to that PC and other users, more or less curious recommended that this account to hire a bodyguard or buy them a safe. Although simpler (and cheaper) would be to protect it with a password. But if you choose the last option, there is a risk you forget your password. Therefore we decided to reach out to help those who are in this situation, showing them how to log on XP without digging (literally) after lost password.
Each system is installed, Windows XP Free default account called Administrator. Which all default not activated. Therefore, to access your account, you must boot Windows Safe Mode (restart-> F8-> Start Windows in Safe Mode). If the system default settings were not modified, The user Administrator shall not be under strict security of any passwords.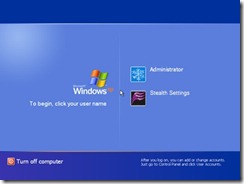 After you log on as an Administrator, go to User Settings control panel, where You can change passwords all users on the system. Although it is tempting, limit yourself to yours: P
After changing the password, restart PC and let it boot normally. Then log in with your user using the new password set.
How to log on XP if you lost your password