If you have decided to buy a laptop Huawei MateBook D15 (Intel® Core™ i5-1135G7), maybe this short review will help you. You will find out how you can you buy a laptop with a bent case, but which does not affect the "user experience", according to those from Huawei.
We are talking about a laptop with an aluminum case, which at first glance seems to be very carefully finished and which of course imitates MacBook to the Apple. Only after the "first sight" passes you realize that the distance between Huawei and Apple (and here I am only referring to the design details) it cannot be measured even by James Webb.
Laptop Huawei MateBook D15 with Intel® Core™ i5-1135G7 processor up to 4.20 GHz, 15.6″, Full HD, 8GB, 512GB SSD, Intel® Iris® Xe Graphics, Free DOS.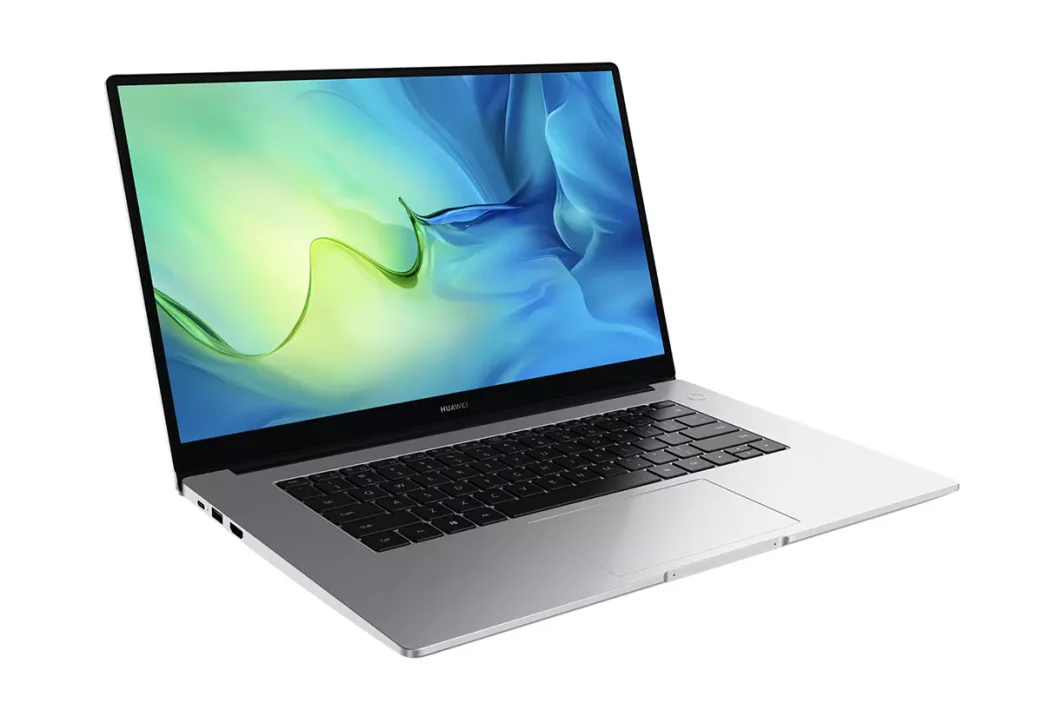 Short performance review Huawei MateBook D15
Regarding the quality-price-performance ratio, this laptop is definitely one of the best choices on the market today. Windows 11 runs without a bit of interruption, and for a pupil, student or someone who works with Microsoft 365 (Office), it is enough.
However, pay attention to other details that might interest you. The brightness of the display is quite low. Do not bear more than 250 nitsand IPS technology it makes the visual experience miserable to say the least. Totally devoid of vibrant colors, well-defined shapes. As if Intel® Iris® Xe is on vacation. (Specifically that I did the test with Windows 11 Pro and all updated video drivers).
I put it next to one MacBook Pro 2017 which I installed Windows 11 Pro (via Boot Camp) to better notice the difference.
Of course, we can't even compare them in terms of price. I remember that in the fall of 2017, the discount offered by a retailer at MacBook Pro had the value of the price given on Huawei MateBook D15.
As can be seen in the image above, MateBook D15 it does not have an illuminated keyboard. Although retailers such as eMAG do not specify this in the specifications, and it seems that neither does the support from Huawei, which is very active in the comments from the reviews, does not know exactly which models have illuminated keyboards and which do not.
Price-performance ratio conclusion
For the price of 2.200 lei (445 Eur), Huawei MateBook D15 it is a very good laptop. The quality of the image cannot be commented on at this price, plus the specifications of CPU, RAM do not define it to be anywhere near a laptop for gaming, video editing or graphic editing. It is instead a good choice for Full HD movies.
I notice that some retailers are selling MateBook D15 cu Windows 11 Home cu prices around 3.650 lei (740 Eur). God forbid! A digital license Windows 11 BESS, which is perfectly legal, can be bought for 20 lei (4 Eur) from online stores in Romania.
Design Huawei MateBook D15 – Laptop with bent case and normal user experience
I admit that I didn't stay to read all the reviews before paying the money Huawei MateBook D15 and I took more into account spethe specifications in the product description si average rating awarded by the buyers of the largest online store in Romania. 4.6 rating is a very good score, but that's if your standards are close to those of the majority who left reviews on the product.
After I put it on the desk, on a flat surface, I noticed that the laptop is not standing straight. The bottom corner on the right side was higher, and when I put my right hand to write, there was always that sound of the back cover hitting the desk top.
Initially, I thought that I had caught something under it and it was causing it not to sit straight. I hadn't caught anything under the laptop, and after researching a bit, I found that the MateBook D15 it is a laptop with a bent case. I calmed down a little when on the Huawei website I found out that it is normal for a laptop or PC to come from the factory with a crooked case. Technologies and the manufacturing process, materials...
Your computer has undergone rigorous strength testing to ensure that it meets the high standards set by Huawei, but it may suffer from slight deformations due to the techniques, technology, and materials used in the manufacturing process. This does not indicate an issue with your computer and will not affect your normal user experience.

consumer.huawei.com
After carefully reading all the reviews on eMAG, I saw that a buyer changed the product three times, because it came with I don't know what crooked lid hinges. After that rated 4 stars. (!?!?)
Design conclusion
With the series MateBook, Huawei is trying to imitate a lot Apple. They are models of MateBook which competes on price with MacBook Pro si MacBook Air, but a recommendation would be that those from the Chinese company give up the aluminum covers and make them out of wood. The buyer of MateBook he could develop passions for sculpture, and in the end he will have one MateBook which stands upright on a flat surface.
Product returned.