Windows 8 comes with a tool less known by the user, who can help them to check system de errors, alerts si informational events or critical and to fix problems based on the results thereof.
Events occurred in the system are displayed in the form graphics, Users can detect without any problem when they were recorded errors si action time thereof (Chart down when the system encounters problems such as Driver Errors or software). Also, the graph displays the Windows Reliability Monitor gives users a View detailed information about individual events that may affect correct operation of the operating system (System updates, software installations or hardware failure).
To open 8 Windows Reliability Monitor, type reliability in Start Screen, select Settings displayed in the right pane of the screen (below Search), Then click on View reliability history (Or type perfmon / rel in Run and give Enter).
Then click on event on chart to learn detailed information about it.
By default, 8 Windows Reliability Monitor displays according to the current month days (users can select and visualize a week) the problems encountered by the operating system, they are classified in categories by importance or seriousness (Application errors, system errors, various errors, warnings si information). To view the technical details events recorded on the chart, users need to click on the link View technical details displayed next to the respective event (they are listed in the bottom of the tool's).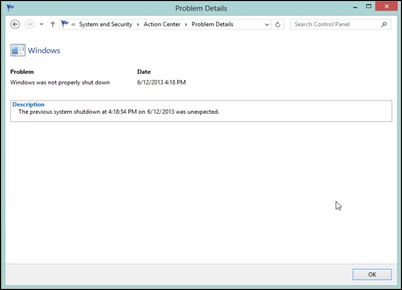 Note: If you want to display a health report of the operating system, type perfmon / report in Run, and to generate a single performance report, type perfmon / sys (all in Run).
STEALTH SETTINGS - Identify your computer issues with Windows 8 Reliability Monitor
Identify problems 8 computer with Windows Reliability Monitor