If you are among those who tend to travel often (or more) in Company laptop provided, and you're certainly familiar with WiFi hotspots: Whenever you "intersection" with a network wireless, The notification appears as a star systray (Bottom right corner of the screen). But in some cases, not all WiFi spots can be identified, especially when it comes to any network "undercover" (For me at the moment).
WeFi is a application (+ web service) Which help users to identify all WiFi networks in locations where they are - whether they are hidden or not - public or - blocked or unverified - available in both versions freeware and variant premium (Requires the purchase of a licenses). As I am currently away and not receive own internet connection, I decided to test this application I of course freeware version).
From personal experience, I can say that WeFi is quite useful (Considering that currently have access to Internet - wirelessly), But the application comes with some "tails" less attractive. Therefore it is necessary to pay attention install something more lively, to prevent and installing a customized toolbar and a online shopping programAnd modification search engine default (of course, in favor of custom).
select option during installation Custom Installation, then uncheck offers generous included (it is enough to uncheck the toolbar install)
then Install uncheck PriceGong and click on Next to continue installing WeFi
Once installed (you can also skip the part enrollment), The application will identify Wireless network / WiFi available in the location where you and your laptop you are right now.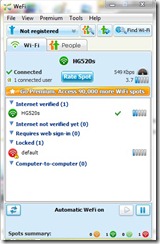 As it noted in screenshot above worked for me ;)
Note: Although not specified, WeFi is also compatible with Windows 7 (the application was tested by me on a system Windows 7 Ultimate, on 32 bits).
Identify Wireless networks (WiFi) from the location using WeFi