... Especially those using online payment systems by Raiffeisen Banking Internet.
During today I received two emails with different subjects, which allegedly will mail coming from Raiffeisen Bank.
1. Topic: Raiffeisen Online Extension Service.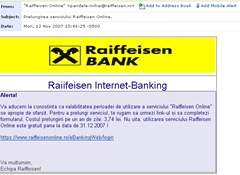 Behind url www.raiffeisenonline.ro / eBankingWeb / login there is a link to a site willing to leave no money on the card. The message of course not coming from the bank. Do not click on that link and ignore the message. As you can see in the picture above, the author was wrong mail and bank name. "Raiifeisen Internet Banking " .
2. Topic: Raiffeisen Online Banking - Account Verification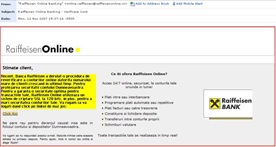 Here the author is absolutely right mail. It is a check account. On the picture link in the email leads to a website virus, more kindly invite you to offer him some confidential data about yourself and especially about the card. Ignore the message !
"Raiffeisen Online will not ask you all figures series ever your debit card or pin it.
Do not act on any request for disclosure of the elements of identification (User ID, password, PIN)!
Raiffeisen Bank employees will never ask you never disclose your password and user code. In such a case please contact customer support immediately Raiffeisen Online Service (phone numbers 021 / 306.55.55 or 021 / 306.55.56).
Raiffeisen Bank you will not send you e-mails or text messages that you may require to access URLs or links to connect to Raiffeisen Online. "
https://www.raiffeisenonline.ro/
PS. God, what have these stressful song from Raiffeisen site!
Attention customers Raiffeisen Bank