One of the Feature Sites improved iOS 7 is multitaskingThe user can juggle applications more quickly and efficiently with the new App Switcher full screen. But sometimes it can happen that the App Switcher become cluttered with active applicationsAnd users can tangle between. As applications from the App Switcher can be completed / closed only by one (or maximum 3 while pulling your finger up to them), it may require occasional cleaning precious seconds. But we have good news for users with did jailbreak iOS 7: Now there Purge.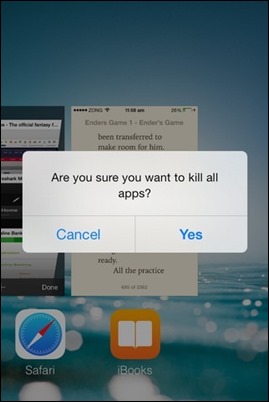 Purge is a free tweak for iOS 7 available in Cydia StoreThat allows users to terminate all active applications in the App Switcher with just one touch. Tweak does not bring visible changes in system interface (do not add new entries Settings, App Switcher or Springboard) And to observe its functionality, users must open App Swicher and hold your finger on any of the applications running in it (tap & hold). Tweak will display a message alertWhich asks users if they want to end all applications in Switcher. Clicking on YesUsers will automatically close all active applications and will be removed from the App Switcher.
Purge can be downloaded from repositorul Big Boss from Cydia Store (After you open Cydia, wait for it to do its refresh, And you will notice the tweak listed, it is among the first tweaks available for iOS 7), And is only compatible with 32-bit devices running iOS 7.
STEALTH SETTINGS - Kill all apps from the iOS App Switcher with just one touch
Close all applications in the iOS App Switcher 7 with one touch