Each of us received mail for once the holidays Postcard form of presentations Power point. This contained besides good wishes known and a period-appropriate soundtrack. In the following we present basic knowledge about this application and how to make a presentation Power point
application window microsoft Power Point 2003 It consists of the following elements: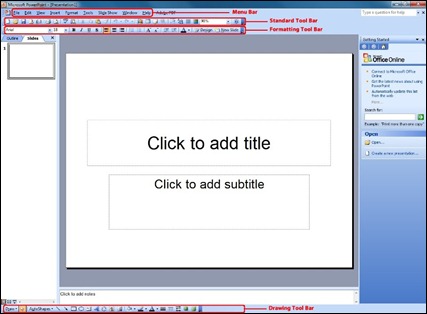 The menu bar (Menu Bar) - Which contains all commands that can be used at a time, organized into menus and submenus;
Toolbars (Toolbars) - Contain the most common commands;
Standard toolbar (Standard) - Files containing the controls related to the use and insertion of everyday objects (table type WordGraphs in Excel), change color scale, etc .;
Formatting toolbar (Formatting) - Contains text formatting commands that will accompany the presentation graphics and visual effects button input .;
Drawing toolbar (Drawing) - Contains commands with which you can create and format graphic objects (lines, shapes, colors, etc.);
Other toolbars depending on the object being formatted.
 Power point 20 bar contains about different instruments, but generally only two or three of them are visible. Toolbars are adaptable and visible buttons can be changed as needed. If you need other commands you can create your own toolbars or add existing orders. Toolbars and menu bar does not have a fixed position. They can be moved, transformed, resized.
moving the cursor mouseacquis on a button in a toolbar, the screen displays the button name (command name).
Vertical and horizontal scrollbars - Allow you moving horizontally and vertically within the presentation; the left of the horizontal scroll bar are five buttons that allow you to change display modes;
The workspace - Is divided into two panels. The left pane is the summary panel. As you create your presentation in this panel will be highlighted main chapters of the presentation. The right panel is the panel slide. Here you enter and you will see slides of the presentation.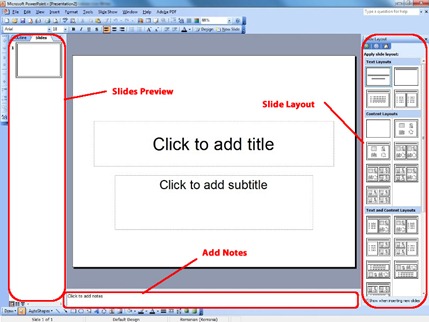 The status bar - Contains information about the current document: slide number of the total number of slides per presentation and type: Project Overview (Overview of the presentation).
Mode selection buttons display - Allow you to pass quickly from one display mode to another and observe how to change the presentation.
Panel summary - Allows you to focus on content presentation. Here you'll develop presentation by typing.
Panel slides (Slides) - displays your slideURLs one by one as it will look when printed or how they look during the presentation.
Panel notes - Bookmark editing allows you to each slide. Here you enter those notes that will remember what you have to say to each slide.
Initiation in Microsoft PowerPoint application