Many new users ai Yahoo have problems when it comes to election ID, And that's because usually the first options for username are already used by other users. So users get to use Suggested IDs even Yahoo, Which are usually similar to the first option of the users, but with some additions that they would have preferred to miss. But as many ID-uri Yahoo inregistrate in the last decade are inactive for a good while (users who have registered have not used those IDs or at least 1 2 years) Yahoo thought to open a Wish List that will allow Active Users (Or us) to register (Somehow this operation resembles queuing) To Advertise IDs inactiveAnd therefore to a small chance to get IDs on who they wanted when they registered Yahoo account.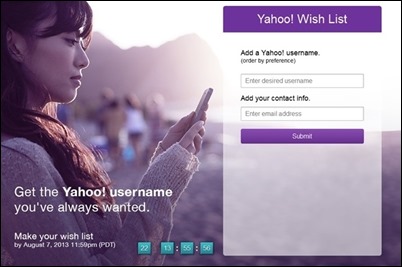 Registering Yahoo! Wish List is available until August 7 2013, This process allows each registered user to select up to 5 IDs inactive Favorite. Then they will have to introduce contact details and wait until Yahoo will announce (via e-mail) If they had the chance to catch one of the 5 available IDs selected.
To get the Yahoo username you've always wanted, We've set up a page WHERE CAN you request your top five choices. If your first choice isn't available, we'll try one of your backups.

In mid-August, you'll get an email Letting You Know Which of your picks is available, with links to claim it 48 Within hours. And Just Like That, it's all yours.
To register in Yahoo! Wish List and select the 5 IDs Favorite of the inactive, visit Yahoo! Wish List Registration Page.
More information about this process can be found by visiting the links Username Yahoo! Get Your Wish List Ready! on Yahoo! Tumblr blog si Reclaiming Yahoo! usernames In A Way That's Secure: Require-Recipient-Valid-Since on Yahoo! Developer Network Blog.
STEALTH SETTINGS - Register to Yahoo! Wish List Yahoo IDs to claim inactive
Join the Yahoo! Wish List to advertise Yahoo IDs inactive