For those who use linux or web server administrators, checking data recorders of a IP or Internet domainIt is something on the agenda.
jWhois is a tool that can be installed simply and with which you can request information regarding the date of registration, name servers directly from SSH.
Install jWhois on Fedora / RHEL / Redhat / CentOS / Scientific Linux, SSH.
1. After you login with root server, the following command line to install jWhois site.
# Yum -y install jwhois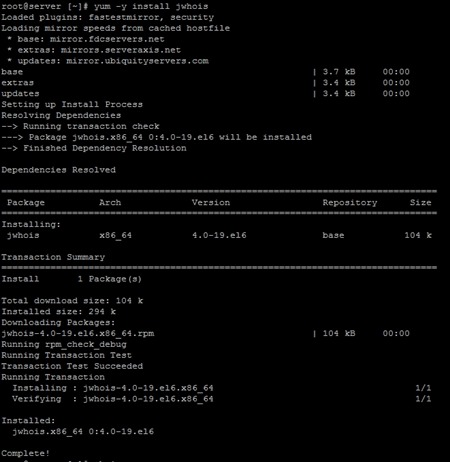 After completing the installation using the command "whois nume-domeniu.com" or "IP whois" to verify the installation.
eg whois google.com
whois -help
[Root @ server ~] # whois -help
jwhois 4.0 version, Copyright (C) 1999-2007 Free Software Foundation, Inc.
This program is free software with absolutely NO WARRANTY; May you
redistribute it under the terms of the GNU General Public License.
Usage: jwhois [OPTIONS] [QUERY]
-version display version number and patch level
-help display this help
-v, -verbose verbose debug output
FILE -c, -config = FILE use FILE as configuration file
HOST -h, -host = HOST explicitly query HOST
-n, -no-redirect disable content redirection
-s, -no-whoisservers disable support service whois-servers.net
He, -raw disable reformatting of the query
-i, -display-redirections display all redirects INSTEAD of hiding Them
PORT -p, -port = PORT use port number PORT (in conjunction with HOST)
-r, -rwhois year rwhois query force to be made
-rwhois-display = DISPLAY sets the display option in rwhois queries
-rwhois-limit = LIMIT sets the maximum number of matches to return
Stealth Settings : Install jWhois on Fedora / RHEL / Redhat / CentOS / Scientific Linux, SSH.
Install Internet Whois (jWhois for IPs & Domains) Tool on RHEL / CENTOS