Yesterday Apple The update released iOS 7.1, Less than 6 months after the launch mobile operating system design completely changed the face of its predecessors, iOS 7. This is the most significant software update received iOS 7 until now, and comes with New Sites feature and some subtle changes of the interface, and the fixes certain system bugs And with improved performance.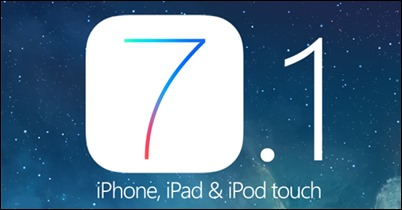 If you have not yet received update alert pe iOS devices provided (they must support operating system iOS 7 to be compatible with the new update) or you prefer to be informed about it before installing it, you should know that iOS 7.1 include Multiple tweaks for UISuch as new design for keys Shift si Caps Lock or new icons for applications Tel, FaceTime si Messages, And changes in appearance Phone App and in shutdown screen. In addition, the update comes with a new manual, Improved to SiriBut also enables users to control while Siri should listen to their commands (now users have to keep pressed Home button to allow the system to listen to orders and previous versions, where Siri automatically detect when the user finishes speaking, often resulting in misinterpretation of orders, users decide when Siri cease to obey orders, Releasing the Home button).
What are the most important feature included in iOS new sites 7.1?
)
Car Play - Allows the use of applications such as Phone, Music, Messages, Maps in the car (if it is compatible with CarPlay and allows connecting the device to your dashboard) also iOS users can interact with the device via Siri, but also through buttons and controls included in car equipment
Siri - Besides listening time control of Siri by pressing and releasing the Home of dispozitivullui Siri voice now and we include more natural (male and female) for some languages ​​such as British English, Australian English, Mandarin Chinese and Japanese
Calendar - New calendar gives users the option to display monthly events (Month view), and also automatically marks holidays specific to different regions / countries
iTunes Radio - Now allows easier creation of postruri based radio favorite song or artist users, in addition, they can now buy albums directly from the music playback screen
Accessibility - New options for displaying form buttons; possible shade of color applications, include messages, weather and animations for multitasking interface option reduces Motion
Camera - Automatic activation option for the iPhone HDR 5S
touch ID - Improvement in terms of fingerprint recognition
Fixes the abrupt termination of the operation's homescreen and erroneous display the number of unread messages in Mail application icon when it is greater than 10.000
Also, iOS 7.1 bring improvements in terms performance si system responsiveness for users of devices iPhone 4. For those interested in receiving information about the new update for iOS 7 from the source, Apple launched a website dedicated itsWhere users can read about feature key sites si improvements included in iOS 7.1
Update site iOS 7.1 It is available to download via OTA (Over The Air) devices 4 iPhone, iPhone 4S, 5 iPhone, iPhone 5S, 5C iPhone, iPad 2, 3rd Generation iPad, iPad 4th Generation Air iPad, iPad mini si 5th Generation iPod touch. To install the update go to Settings > General> Software Update.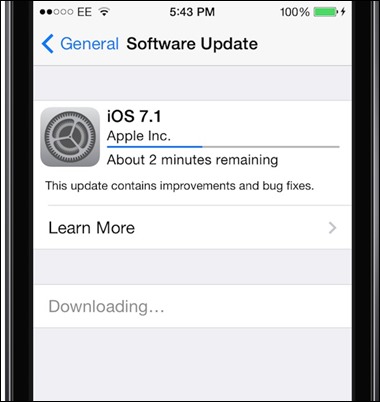 STEALTH SETTINGS - IOS brings 7.1 new features and performance Improvements
7.1 iOS comes bundled with us Links feature and performance enhancements