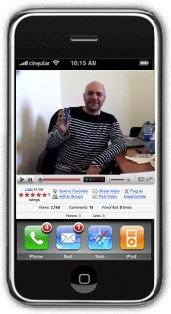 Apple announced that iPhone users will be able to enjoy YouTube services through a new application Apple-designed. With the iPhone you can watch YouTube content wirelessly over Wi-Fi or EDGE networks and of course a 3.5 inch display.
To achieve better video quality and longer battery life to these iPhones, YouTube began to change in the advanced video contents H.264 format, and iPhone will be the first phone that will use this format, H.264-encoded videos. 10,000 over the videos are available in 29 June and then continue to add YouTube videos until all their catalog will be completely H.264 format.
The combination H.264-encoded videos plus iPhone's with Wi-Fi connectivity, naucitorul 3.5 inch display, and YouTube applications with multi-touch user interface do nothing to give you the best experience on a mobile YouTube.
The way technology has advanced in recent years 5 makes me feel more comfortable, more intelligent, more beautiful, but offers me some fear and wonder, "What next?" ...
iPhone offers YouTube