A few months ago I wrote a post about how to keep your laptop safe while traveling. The first recommendation was to Keep your laptop (notebook) home if you really need it on vacation, but if you still can not break up with him, I tell you to wear it as much as possible, with your thus preventing it to be stolen. Better safe than bad. :)
The same advice I give you and "outs" with your laptop on a terrace at the library or at school. But if, for some reason, such as buying a cup of coffee from the vending machine and retrieval with an old friend, will leave your laptop unattended, not be surprised to find they no longer return, I recommend LaptopAlarm.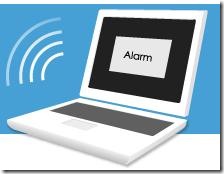 LaptopAlarm is a program that does not require installation (Self-executing program) that an alarm flashy (Decibels successfully compete with a newborn) every time when the laptop there is a direct action, Your previously defined, such as disconnecting the power cord, Mouse or closed (shutdown) laptop. When choosing what to trigger alarm (default all alarms are activated) Program provides can lock your computer so they are needed typing a password to disable alarm.
There are also some shortcomings. For example, a alarm will trigger and you'll want to log on laptopUp candveti enter the password off and be able to log into Windows normally. Or that anyone can stop the alarm by pressing the power off / shutdownAlthough it takes a few seconds until the computer turns off this way (cold shut down). And the program is a beta, Hence the errors that can occur. But for many users LaptopAlarm worked.
Attention!: LaptopAlarm is free / free only in beta. The final version will be shareware (That will be accompanied by a distribution license which require a certain payment).
LaptopAlarm runs on operating systems Windows 98 / ME / NT / 2000 / XP. In Windows Vista works only with UAC disabled.
LaptopAlarm or how to defend your laptop from thieves