Newer Google Play (Application for Android) Lists all installed applications in the same place (My apps), Whether they are paid or free. If used regularly to buy in various Applications for AndroidMost likely at some point you will want to list only those applications or simply to remember what they are, or for other reasons. Although you can try to identify all paid applications My displayed among the free apps in a much faster solution would be the installation of My Purchases.
My Purchases is a free application for Android which helps users keep track applications purchased from Google Play Store, Listing them all in one place.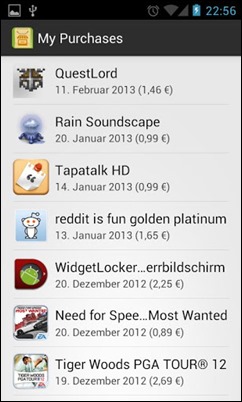 application displays application name, the date they were purchased si how cost these. You can open the page on Google Play of any application of them, from which you can unload si reinstall the applicationOr also you can install a new phone (Which you set Your Google Account).
My Purchases By default not displayed in applications that have been refunded or whose Purchase was canceledInstead displays applications that are already installed. These settings can be modified SettingsSo be list of applications (Including delivery) or applications already installed will no longer be displayed.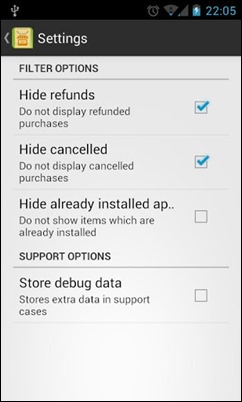 Download My Purchases (via Google Play).
Note: The app has a Pro version, the difference between this version and the lack of free advertising.
STEALTH SETTINGS - List all your Android apps in one likes paid with My Purchases
List all purchased applications on Android in one place with My Purchases