Apple recently introduced the new operating systems for all iDevice company sites. iOS 10, MacOS Sierra, Watch 3 si tvOS (10?), They have already been launched in Beta 1And will be available in the final version this fall. As Apple has accustomed us in recent years with the launch of a new iPhone device will launch a new version of the OS. This year is the turn 7 iPhone range. Smartphones that will run the new iOS 10.
A new and we have a major change to the new operating system for Apple computers and laptops. The new operating system MacBook Pro, MacBook Air, MacBook, iMac, Mac Pro si Mac MiniWill be called MacOS Sierra. He will not have the famous "OS X" anymore. So, "macOS" will replace "OS X" with the launch of the new OS version.
Giving the name "OS X"Conjures as Apple is preparing to transition from 10 major version (Which gave "X"CPC - 10 novel) version 11, operating systems.
MacOS Sierra It is available from download and install in Beta 1For developers. Enrollment in the program Apple Developers It costs $ 99 year.
News in Sierra MacOS
Siri will be implemented iMac and MacBook
Launched in October 2016 (iOS 6) for mobile devices (iPhone, iPad, iPod), Siri will be available in the fall of 2016 and computers and Apple MacBook sites.
Siri further updates will keep you on top MacOS Sierra. Implementation of all the devices Siri on Mac, will enable the user to control and request information by voice. In other words, talk to your Mac, and he will answer us and we'll provide the requested information by voice. From searches on Google to weather, search for messages and emails, search for files by criteria required information about the storage space available on Mac and other information, can be requested through the voice command Siri.
"Makes Siri ITS debut on Mac with New Capabilities designed just for the desktop. And that's not the only way your Mac is smarter. MacOS Sierra HELPS you rediscover your best photos, shop online more securely, and work more seamlessly Between devices. Also it CAN help free up valuable storage space. Even now your Mac does more for you, so you can do more with your Mac."
Sierra MacOS will bring new options for application Photos
Better organize them by adding smart class "Memories"That will create slideshows with photos sorted by location, dates, holidays, etc.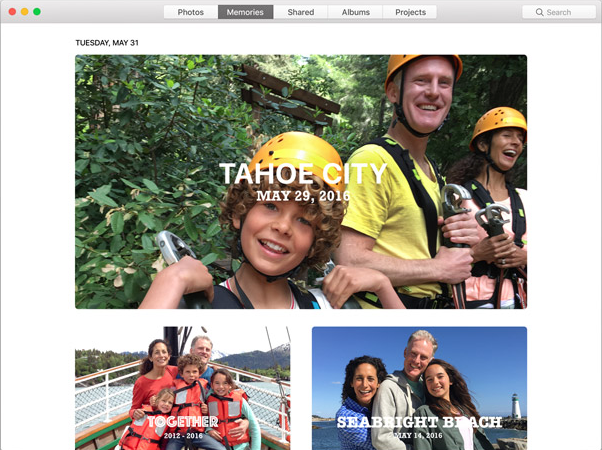 Optimizing space on your hard drive / SSD and storing documents in iCloud
MacOS SierraWill bring new features of iCloud and a new file management system. Important folders of the operating system, Documents si desktop will be iCloud sync inIt can be accessed on all the devices you have connected Apple IDCPC.
To maintain more free space on your hard for new files, MacOS Sierra will put us in iCloudfolders and files that are accessed frequently not. They can be accessed anytime when we need them. In addition, it is easier to identify unneeded file and delete it.
In our opinion, this is more important than implementing Siri feature in MacOS.
"Storage space maxed out? No problem. MacOS Sierra of can help make more room by automatically storing files in the cloud Rarely Used Them keeping and available on demand. Also it CAN help you find and remove old files you no Longer use. So There's always room for new files on your Mac and the ones you've Used most recently."
1 is currently in Beta, it is likely that the MacOS Sierra turning up and other news. Stay tuned for updates. :)
MacOS Sierra - Apple's new operating system, OS X will not be