Go through electronics stores, clothing and accessories, etc.. Most products, or have them printed brand and famous brands, original or pirated products, gate somewhere on the label "Made in China". I do not think I exaggerate, but over 60% of products in Romania are of Chinese origin. Old tradition since the time of Ceausescu, when Romania was one of the biggest markets of China in the south-eastern Europe (and still is). They produce a lot. Have a workforce giant and is the country where labor is bought for money than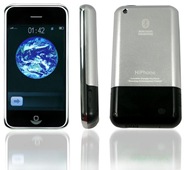 i, which is why all the major clothing and electronics manufacturing companies have divisions and manufactures in China. Also China is the one that breaks the rules of the market without anyone to object a. I forget how many days past the shops fake products found on the shelves, bearing inscriptions of some famous brands (Nike (ACG), Panasonic, Puma, etc, very long list). Made in China.
I read the other day ymvista.com about HiPhone. It seems that even the most sold product in its class smartphone iPhoneNot escaped the Chinese piracy. China has created an exact copy of the iPhone, called HiPhone, splendid (and assume a much lower price than the iPhone), and even more developed than the original product.
Although a "Chinese rip off", HiPhone has already made itself known as the most successful iPhone clone (3G phone with WiFi, GPS, Bluetooth, 2 megapixel camera, MP3 / MP4 playback support and Windows Mobile 6.0), it even has some advantages that it does not have: accessible battery (compared to the sealed battery of the original iPhone); microSD card slot; dual sim (the sims can be changed between them even during operation).
I feel that soon we will have HiPhone and in Romania, where I think it would be successful. HiPhone is cheaper by ~ $ 150 than an iPhone.
More details about HiPhone: iPhone "stepbrother" HiPhone.
Made in China - iPhone vs. HiPhone