One of the fears users laptops cu Built-in webcam is to be spy without their knowledge just through that web-cam when using computers statement. Unfortunately for them, their fear is not quite without foundation, given that over the years there have been all sorts of malware who have managed to fix this thing: spy on users Windows via webcams connected to the system. And even worse news is that currently such malware managed to over half a million infected computers worldwide and continues to make head with vulnerabilities users.
BlackShades Remote Access Tool (Or briefly Blackshades RAT) Is a type of malware which allows hackers sa steal personal data users with infected computers was intercept keys used and use Webcams computereleor to register users without their knowledge. In addition, it can be used to BlackShades crypt and lock files from infected computers and then to claim a certain amount of money for the release of thereof.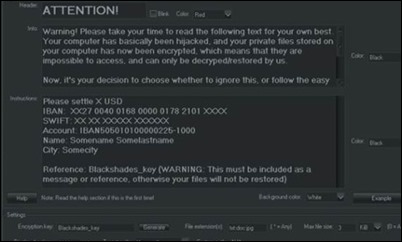 From 2010 until now, several thousand people have malicious bought this malware, BlackShades RAT generating revenues of over 3500$. Fortunately, one of malware developersMichael Hogue, who pleaded guilty in New York after his arrest in 2012, cooperates with FBI to stop its spread. The other co-creator of Blackshades, Alex Yucel, was arrested in Moldova in november 2013, and is to be extradited to U.S. for trial. Also, the FBI announced that were arrested and 97 other users of malwareSuspect and that would distribute copies of it for prices ranging between 40$ si 100$. Low price malware did it become popular among hackers and its launch willHave appeared more variant its going around Internet under other names.
The information collected so far this month the FBI led to over 359 housing over 13 European countries (Austria, Belgium, Britain, Croatia, Denmark, Estonia, Finland, France, Germany, Italy, Moldova, the Netherlands and Switzerland), where police seized weapons, drugs, money and over Data storage device 1000. In a previous investigation likened to BlackShadesGerman police arrested a young man 18 years used this malware to record and photograph 2000 than women located in front of webcams without their knowledge.
STEALTH SETTINGS - BlackShades malware infected more than half-million computers world-wide
BlackShades malware infected more than half a million computers worldwide