Programs like Firefox si Thunderbird tend to move more slowly after long use. This is attributed, to some extent, to the fact that both Firefox, Thunderbird and also Chrome, Store information over time database SQLite. As these databases grow volume and program execution time decreases. Well ... this is not the only cause that can reduce the execution speed of Firefox, Chrome, Skype or Thunderbird, but can be one of them.
SpeedyFox 2.0 is a programel portable (No installation required) dedicated operating systems Microsoft Windows si MacintoshWhich help to optimize and reduce the volume of SQLite databases Mozilla Firefox, Thunderbird, Google Chrome and Skype. Once opened, SpeedFox automatically scans your system and check if any of the programs installed that is compatible. If you have installed at least one of the programs Mozilla Firefox, Thunderbird, Google Chrome or Skype, SpeedFox offers us user / profile optimization options.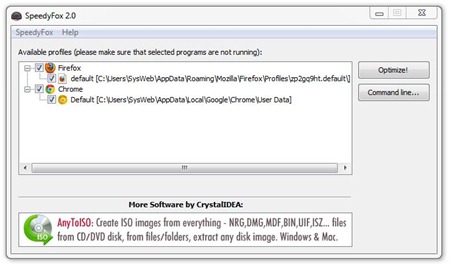 With a simple click on the button "Optimize, "SQLite databases compatible programs will be optimized.
At the end of the optimization process, it will display a report showing how many files have been optimized and was reduced as the volume database.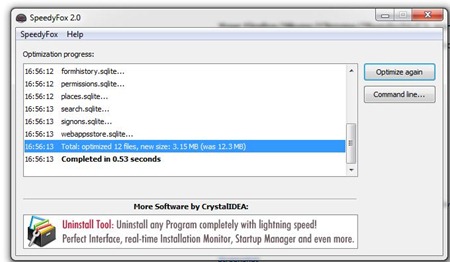 From what we can see in the picture above SpeedyFox significantly reduced the volume database.
Download SpeedyFox 2.0 for Windows – download link
Download SpeedyFox 2.0 for Mac OS X - download link (Available only for Firefox)
This program is free and is compatible on all operating systems Microsoft Windows.
At launch SpeedyFox is recommended that you close all programs want to feceti optimization.
Stealth Settings – Speed ​​up the process of Firefox, Skype, Chrome and Thunderbird .
Increases working speed of Firefox, Skype, Chrome and Thunderbird SpeedyFox 2.0