If you are using Firefox, You probably noticed that the latest version appears when you open a new tab or when close a tabLasts a few seconds until the action is completed. In addition, the process of moving to another tab when you close on the asset is often quite slow, especially when we opened more than 5 tabs in the same window.
All this "delay" in Firefox is caused by reaction animation which he uses to opening and closing tabsBecause browser will consume increasingly more resources as increasingly open several tabs (and obviously, when we have dozens of tabs open, the browser will react slowly when we will close between them).
If you are confronted with such a situation when using Firefox, you can simply fix the problem animation disabling browser used opening and closing tabs. Or even if you encounter such a problem, disabling the animation can significantly increase Firefox's speed.
How can be disabled animation when opening / closing tabs in Mozilla Firefox?
open Mozilla Firefox and type about: config in the address bar, then press Enter. Click on the confirmation I'll be careful, I promise!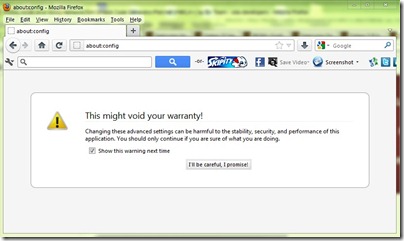 enter Animated in the field of law FilterThen identify entry browser.tabs.animate
double-click on it or right click> Toogle to change the value of true in false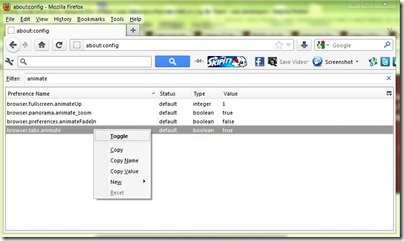 And that's it! From now on, whenever you open a new tab or you close a tab, it will open / close instantly, without animation to cause delays.
Note: To reactivate animation, change back browser.tabs.animate value to true.
STEALTH SETTINGS - Speed ​​up Firefox by disabling tabs animation
Increase animation speed by disabling Firefox tabs