When it comes to performance si speed system WindowsThey may be influenced by computer configuration, And the operating system settings. Any operating system WindowsAfter a certain period of operation, start moving slower and Performance decreases for various reasons, including temporary files or traces in Registry de uninstall programsToo little free space system partition or any corrupted files. Also how configuration al System settings It has a fairly high importance when talking about performance Windows OS.
While some users (and here I refer to those who have no idea how the cat) prefer to various tweaks si hacks textbooks to thunder a system Windows and its high performance, there are quite a few who prefer to use it third-party applications which can do so automatically with just a few clicks, and offers (most times) guarantee that the system will be functional after Customisation.
Windows Live Tuner It is one such application, available freewith efficiency quite high in terms tuning systems Windows (Shortening shutdown, optimization CPU, RAM si Registry System or optimization HDD si SSD) And applications installed on them. The application also comes bundled with a number of Optional tweaks, Such as deleting temporary files, prioritization Windows Explorer or optimizing resolution for applications with low latency.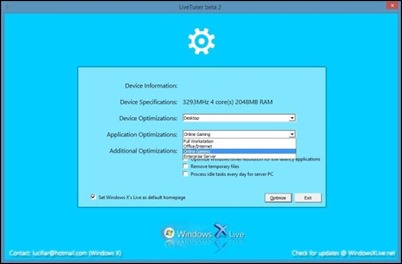 How it works Windows Live Tuner?
Run application (this does not require installation) And select the device (laptop, desktop or tablet) That run the operating system you want to optimize. then select Full Workstation into law Application Optimization and click on the button Optimize (Most likely before you want to uncheck option Set Windows X's Live as default homepage). After performance optimization tweak sites and a automatic restart system, run the application again and select the Additional optimizations you want to perform (if applicable).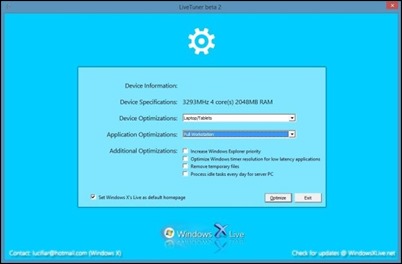 Windows Live Tuner is currently in stage betaAnd recommended the creation of a restore point before using it to avoid possible unpleasant consequences.
Download in English Windows Live Tuner.
Note: Application compatible with Windows XP, Windows Vista, Windows 7 and Windows 8/8.1
STEALTH SETTINGS - Speed ​​up Windows and increase system performance with Windows Live Tuner
Increases system speed and performance Windows cu Windows Live Tuner