MDM.exe it is part of some products / applications Microsoft (Of which mention suite Microsoft Office) And is responsible for resolving errors that could occur while using these applications. The process also enables users to troubleshoot MDM.exe Internet Exploreracquis with a script Debugger.
MDM.exe is an essential process for the operation of your system, it can be deactivated very simple IE options (Tools-> Internet Options-> Advanced->Browsing)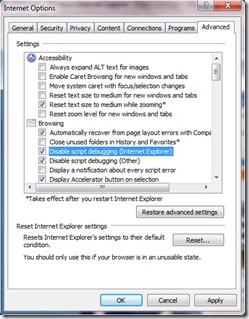 or eliminating the process of StartUp using msconfig.
Although it is considered to be a safe process, MDM.exe can sometimes hide malware which, once installed, allows third persons to access systems through remote various locations, providing such passwords and personal banking infornatiile stored in these systems. If you notice several instances of this process running at the same time or have any suspicions about the process MDM.exe, We recommend performing a complete scan of your system.
MDM.exe (Machine Debug Manager)