Whether the USB Sticks of external hard drives of USB printers or any other devices with USB connection la computer, Many users Windows sometimes face problems when connecting or disconnecting them (eg errors when trying disconnecting USB devices via Safely Remove Hardware).
To solve Windows problems related to USB devices, microsoft launched a few days ago a new Fix It tool, Freely available to all users.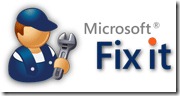 USB Fix It detects and automatically corrects the following problems:
USB device not recognized (This problem may occur because of filters used upper and lower registry could be corrupted)
USB printer does not print (Problem usually occurs when a command fails print. In this case, most likely you can not disconnect the USB printer via Windows)
USB storage device can be disconnected (Windows displays the message "Windows can not stop your Generic volume device Because the program is still using it. Might Be That Close any programs using the device, and THEN try again later." When trying to disconnect the USB device through Safely Remove Hardware. The most common cause is setting Windows Update not to make updates for drivers, ie drivers are not automatically updated and it is possible that they are outdated).
Note: USB Microsoft Fix It tool for solving problems with USB devices not compromised or damaged, only Windows related problems with these devices.
STEALTH SETTINGS - Microsoft released Fix It Tool for USB related issues in Windows
Microsoft launched Fix It for solving problems with USB connection in Windows