In recent years, e-mail service for Microsoft, Hotmail, Lost more and more ground to its competitors, gmail si Yahoo. Trying to regain users Microsoft products replaced the old work with a new one called Outlook.com.
users MS Office suite are already familiar with application OutlookOne of the most popular e-mail clients for Windows. With Outlook.comMicrosoft hopes to get a similar popularity and online e-mail service.

The new webmail client Microsoft comes bundled with a new interfaceInspired by Metro interface a OS Windows 8 (actually, Windows 8 has one built-in mail appWhich closely resembles the Outlook.com regarding the interface), and a few Feature Links interesting addition to the work required for e-mail, such as Anti-spam protection, protection of privacy si virtually unlimited storage space.
In Outlook.com emails are sorted depending on the category to which they belong: messages from contacts, newsletters and social updates and users can customize personal accounts according to the preferences (colors for text, links, advertisements or visual of your e-mail).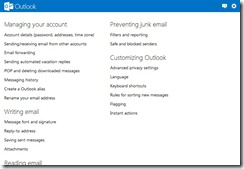 In addition, Microsoft has included applications Office Web (Word, Power point, Excel si OneNote), Users can create and edit documents directly in e-mail client without leaving Inbox. Other sites Outlook.com essential feature for Internet users is integration accounts Facebook, Twitter, LinkedIn, Google and soon Skype.
new limit for attachments is 300 MBDue to association with SkyDrive online storage serviceAnd another is the large white ball posiblitatea to view videos and slideshows directly in e-mail client. Also total lack of advertising The Inbox page and the New mail is another plus for Outlook.com.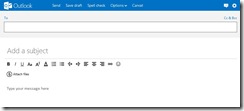 Since Outlook.com is a new webmail work, You have the chance, if you hurry, register username you want. Also, if you have a Hotmail account or Live created, you can upgrade the new interface Outlook.com using the menu Options (Click on the option Upgrade).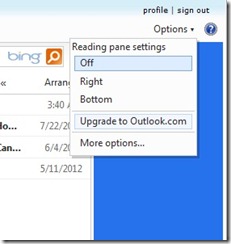 You can still send and receive email (s) to address @ hotmail.com, @ Msn.com or @ Live.comAnd also you can create an address @ Outlook.com.
STEALTH SETTINGS - Microsoft has relaunched the old Hotmail webmail service, now named Outlook.com
Microsoft has relaunched the old Hotmail webmail services under the name Outlook.com