microsoft officially announced the other day that will be new features of available in the update Windows 8.1 / Blue, Updates will be available in version Preview starting with 26 June (Data also confirmed by Microsoft). For those who preferred to wait for the official announcement to inform the update for Windows 8We list here s most important feature thereof:
Users will have a wider range of options regarding customizing the operating systemOr as we refer to Start Screen, Lock Screen or desktop. The Start Screen will introduce new dimensions tile sites (Small / large) plus option Customize (This will prevent users accidentally tile to move sites and can be accessed with a right click). Also, users can set wallpaper on desktop ca background the Start Screen.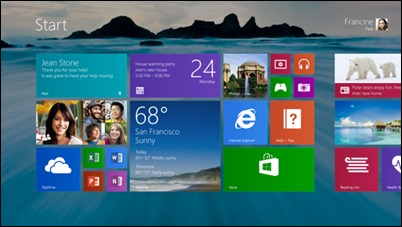 Another novelty is the possibility to display personal photos Lock ScreenIt can be turned into a slide showWhich may be the source of photos stored locally or stored in account SkyDrive.
Microsoft has taken into account the feedback from users and revived Start buttonThereby replacing thumbnail for Start Screen (In Windows 8 it is displayed when the cursor go very lower-left corner of the screen). Through Start Button Users can be The Start Screenor Power menu / WinX (The latter being accessed by right-clicking). In addition, users will be able to change the action for hot-corners.
In Windows 8.1, users will access to all settings available control Panel directly from PC Settings
Boot directly into the desktop
Another desire of users that Microsoft has taken into account is system boot directly into the desktop, Which is available on configuration options operating system.
Users will receive more information about modern applications available Windows StoreSuch as detailed lists of the most popular free applicationsThe latest apps or recommendations made by editors.
Microsoft introduces modern new applications available in the default mode in Start Screen and also promises improvement all other built-in applications and adding New Sites feature thereof. Also, users will be able to view multiple applications at the same time by snap-view, Its size can be changed according to your preferences.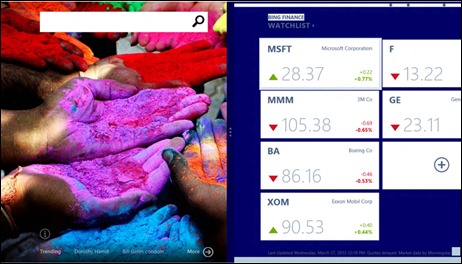 A search through Search Charm will provide overall resultsOffered by Bing. There will also be displayed Quick ActionsSuch as option Play for audio and video files.
Accessibility and connectivity Cloud
Users will be able to save any file directly in SkyDriveIt can be accessed easily (even offline) Through application the same name (SkyDrive)
Windows 8.1 will come bundled with new Internet Explorer browser 11. It will provide a better performance for touch si for faster page loading. In addition, the option to display address bar constant and can open a unlimited tabs (They will be synchronized all devices used).
Those wishing to pursue a interactive preview of which will be Windows 8.1, Watch the video below:
Note: Windows 8.1 Preview will be available expanded via Windows Store, the free update.
STEALTH SETTINGS - Microsoft confirms the new features and release date for Windows 8.1 Preview
Microsoft confirms new features of the release date for Windows and 8.1 Preview