Although launching a version Preview for the next Windows (Currently known under the name Threshold) Will most likely be somewhere at the end of this year, currently known quite a few information about it. The most important (already confirmed) are reintroduction Start menu (Initially thought The Start Menu will return Windows Update 8.1 2But Microsoft has released on August 12 Windows 8.1 August Update understood and made quite clear that this operating system will not receive another major update) And the possibility of running modern applications mode window. Recently however, was the fact that Microsoft plans to Charms menu quit in Windows 9It is optimized for the devices touch screen but somewhat difficult to access for users in certain situations Desktops (This change will be most likely due to the desire microsoft to create universal operating systemThat will run both computers and the mobile).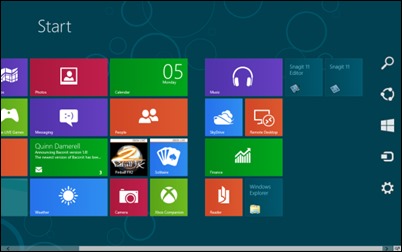 Also, other new feature the Threshold will be introducing virtual desktops (or multiple desktops), A very popular feature among users Mac OS X si LinuxBut which Microsoft did not give importance until now. In Windows 9 However, users can create separate active desktops you can access via a button available in taskbar (Windows users now have access to alternative third-party to enable this functionality).
Even if Windows 8.1 succeeded somewhat in May to repair the bad reputation that Windows 8 had it since launch, this operating system is further compared with Windows Vista, Which puts pressure on Microsoft in terms Windows 9. And if online reports suggesting that Windows 9 Windows users will be offered free 8.1 come true, this will be a reason for the new operating system is likely to become the next big success of the company.
STEALTH SETTINGS - Microsoft to drop Charms Menu in Windows virtual desktops 9 and adds new feature
Microsoft quit Charms menu in Windows 9 and introduces a new feature: Virtual Desktops