Microsoft Safety Scanner is one of the most effective ways to detect viruses, applications spyware or other malware software existing on a Windows PC.
This anti-virus scanner check first If system files have a signature to present reliable. Any file system normally should bear the signature Microsoft, e.g. if a files. exe, . Dll or any other type, has been modified, it will be automatically detected by Microsoft Safety Scanner.
How can I download and run Microsoft Safety Scanner?
Microsoft Safety Scanner, is a security tool which can be run in parallel with antivirus already installed on the system Windows (if it exists). Microsoft Safety Scanner is not an antivirus that will provide real-time protection and protect you from malware. It downloads, and runs the scanning process at the user's request.
It is also noted that after 10 days after downloading Microsoft Safety Scanner, it must be deleted and downloaded again from the official website of Microsoft. It's not a security tool that gets updates as regular antivirus software.
"The Microsoft Safety Scanner is a free downloadable security tool that provides on-demand scanning and remove HELPS viruses, spyware, and other malicious software. It works with your existing antivirus software.
Notes: The Microsoft Security Scanner expires on 10 days after being downloaded. To rerun a scan with the latest anti-malware definitions, download and run Microsoft Safety Scanner again.
The Microsoft Safety Scanner is not a replacement for antivirus software Using year program that provides protection Ongoing."
Microsoft Safety Scanner is free and compatible with operating systems Windows 7, Windows 8 and Windows 10. The application is free and is available for download on the official page hosted by Microsoft.
Download the Microsoft Security Scanner Security Tool - via Microsoft
After downloading the file msert.exe (Microsoft Safety Scanner), as I said, for 10 days we can run anytime. After this time you will have to enter and on the official website and downloaded it again.
Double-click to launch the application Microsoft Safety Scanner, Tick to accept the "Terms and Conditions" then we are given three options for scanning.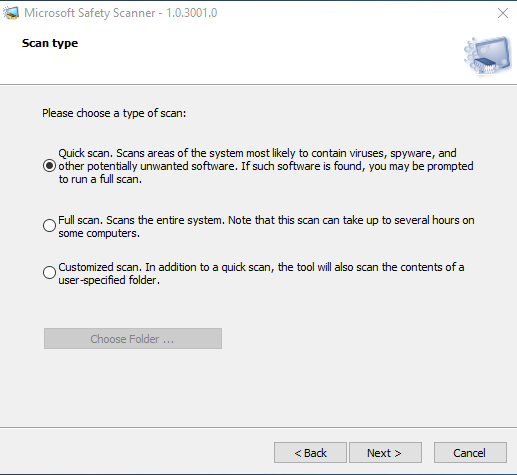 Quick Scan - It is the fastest option, which scans only files and folders OS. Preferred areas of spyware, viruses and malware. The recommendation is that if a virus file is discovered in these system areas, go to the full scan. Full scan.
Full scan - Scans all files present on the hard. This scan can last from several minutes to several hours, depending on the volume and number of files on the hard.
Customized scan - This option allows the user to choose a specific location. We can choose to scan the folder Windows, the Download folder or the folder where we download files from torrents. Most likely to receive Infected files.
After determining which of the three options you will use, click "next" to start scanning.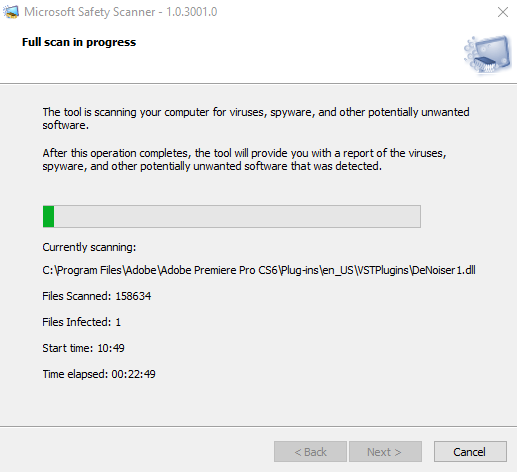 Upon completion of the scan will display a status report with viruses, spyware or malware found on the system.
Microsoft Security Scanner Security Tool is free and is compatible on Windows 7; Windows server 2003; Windows Vista; Windows XP, Windows 8, Windows 8.1 si Windows 10.
Microsoft Safety Scanner - Security Tool Download - Remove viruses, spyware, malicious software