Even if the default functionality Power button al computer It is to close computer when clicked, in Windows 7 si Windows 8 users can change this in system settings. For example, some users would probably prefer that when pressed Power buttonComputer how to enter Sleep or hibernationSo as to keep open system applications si files and when the user is using the computer again open, the user can resume working where you left it.
How do we change what the Power button does Windows 7 and Windows 8?
open control Panel (from Start Menu or menu WinX) And navigate to Power Option (under Hardware and Sound)
on the left panel, click on the option Choose what the power button does
when specific options When I press the power button, Select the drop-down menu meniulrile what action you want to perform pressing Power button when a computer runs on battery or when connected by cable a current source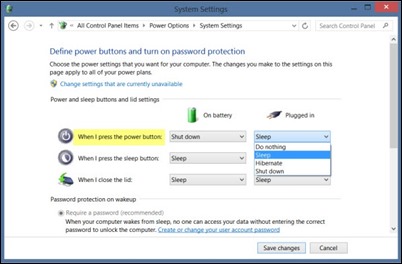 4 options you have available in each case: do nothing, Sleep, Hibernate si Shut down
after selecting the desired action, click on Save Changes to save changes made.
STEALTH SETTINGS - Change what Power button does in Windows 7/Windows 8
Change what the Power Button does on your computer Windows 7/Windows 8