With IE9 I would say that microsoft finally managed to stop the alarming decline in the popularity of his own Web Browser in favor of its three main competitors, Firefox, Opera si Chrome. That's because the new version Internet Explorer came bundled not only with a new interface, Modern but with plenty of new features and improvements.
But as you already know (from experience, most definitely: D), most users prefer to customize the default browser used, regardless of its quality. To this end users Internet Explorer 9 can use with confidence TweakIE9.
TweakIE9 is a portable application (No installation required) that allows users to make changes fast IE9 browser interface (UI) And other settings such as the security, startup or download.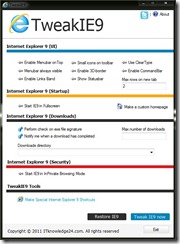 What settings are accessible TweakIE9?
Enable menu bar (Menu Bar)
Display the icons on toolbar
Using Clear Type
Display of the menu bar
Enabling bar links
Display status bar
Changing the maximum number of rows in a new page
IE9 start in full screen
Creating custom page (custom page)
Changing the maximum number of simultaneous downloads
Starting IE9 permanent Private Browsing mode
Creating special shortcuts IE9
Changing the default location for downloads
IE9 reset to default settings
Note: Compatible with all versions of Windows Vista and Windows 7 (32-bit and 64-bit)
STEALTH SETTINGS - Change Internet Explorer Default Settings 9 with TweakIE9
Change default settings in Internet Explorer 9 TweakIE9