Now more than a year, exactly on March 21 2011, Mozilla launch finally, after many beta versions, Firefox 4Final version. And although 4 days ago Mozilla has made available to the public 12 version the popular browser, There are still many users who have not endured to quit Firefox 3.6, Mostly using changes made to the interface si instability suggested by version upgrades, Made almost every month last year, the main motivations for this. In addition, they believe that 3.6 version corresponds most personal requirements and newer versions have become increasingly loaded and despite efforts Mozilla is moves much harder than this, especially computers with configurations weaker.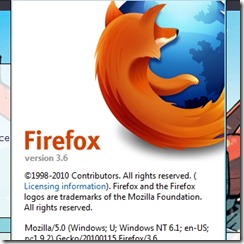 Well, we have bad news for those users, because Mozilla has decided to discontinue support for Firefox 3.6 (Released in January 2010) beginning 24 April this year, right after launch of the latest stable releases browser, namely 12 version.
We strongly ADVISE our users to upgrade from Firefox 3.6, as THEY Will Receive No longer critical security updates as of April 24th ". So, any lover still 3.6 Firefox Using it as a primary Web browser is advised to upgrade the old version.

Firefox users have already begun to receive 3.6 messages "urgent" that requires them to actualizaze browser the latest version released, and who announces will no longer receive security updatesWhich implies that this version will soon be quite dangerous to use.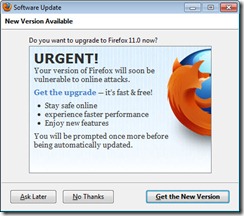 Another announcement made recently is that Mozilla The final version of Firefox 13Which will be launched in June This year will Minimum system requirements usage Windows XP SP2 (Requirements that allow the use of the operating system before Windows 2000) The reason is trying to significantly improve the performance browser by using it on a modern.
STEALTH SETTINGS - Mozilla has ended support for Firefox 3.6! Upgrade to latest version
Mozilla ended support for Firefox 3.6! Upgrade to version 12