Mozilla recently released version 8.0 a Firefox.
Ca GUI (UI) new version does not come with anything new, but instead are a series of updates to the significantly increase the speed of work (Especially for opening browser when multiple tabs open) and lower consumption of resources (RAM) to view / open pages with content video si audio.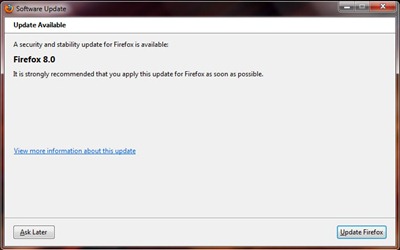 News Mozilla Firefox 8.0
- Add-ons installed by third party is now disabled by default Programs
- Added a one-time add-on selection dialog to manage previously installed add-ons
- Added Twitter to the search bar for select locales. Additional local support Will be added in the future
- Added a preference to load tabs on demand, improving start-up time when windows are restored
- Improved performance and memory handling When using <audio> spirit <video> elements
- Added CORS support for cross-domain textures in WebGL
- Added support for HTML5 context menus
- Added support for insertAdjacentHTML
- Improved CSS hyphen support for many languages
- Improved WebSocket support
- Fixed stability issues Several
- Fixed Several security issues
New in Firefox 8.0 is and adding "serach bar's" for Twitter. Very useful for those who use social serviuciul intense and wish to seek information on Twitter.
Download Mozilla Firefox 8.0 – mozilla.org.
Mozilla Firefox is available in over 8.0 70 languages, inclusv in Romanian language.
8.0 Mozilla Firefox: Download / Update