In case you're wondering where he disappeared to Disk Cleanup in Windows 11 and how you can delete Windows.old, this tutorial will show you step by step what you need to do.
Disk Cleanup in Windows 11
Microsoft brought, in addition to many novelties, some changes of some utilities along with the development Windows 11.
Disk Cleanup option which helps us free up disk space temporary files, cache and the old versions of Windows (Windows.old), no longer exists in the regular menu. This option has been moved and is somewhat more advanced than the one we were used to in the first versions Windows 11in Windows 10 or in older versions.
In an older article I showed what the folder is Windows.old on the system partition, if that helps Windows.old and how it can be deleted with Disk Cleanup.
In Windows 11 Build 25163 option Disk Cleanup disappeared from the traditional menu, Microsoft implementing a new system for this function.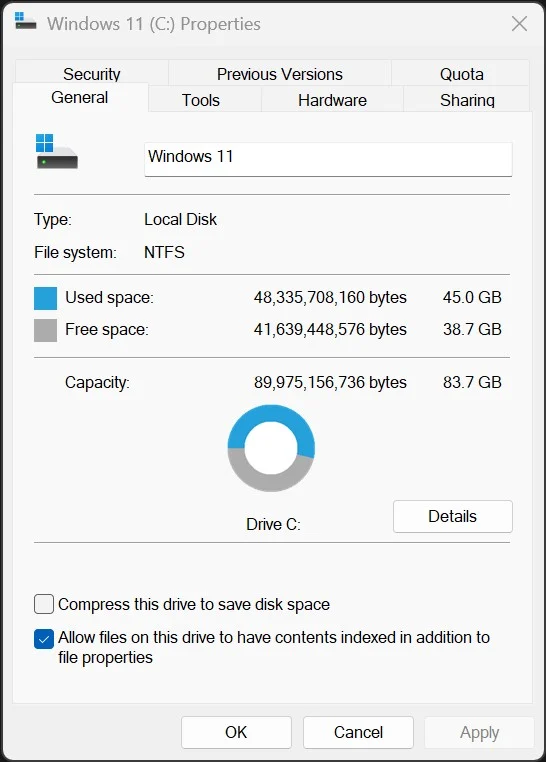 How to access and use Disk Cleanup in Windows 11
Daca we want to delete Windows.old in Windows 11 cu Disk Cleanup, the method has changed compared to previous versions of Windows.
1. open Windows 11 Settings, then in the bar on the left we go to System → Storage.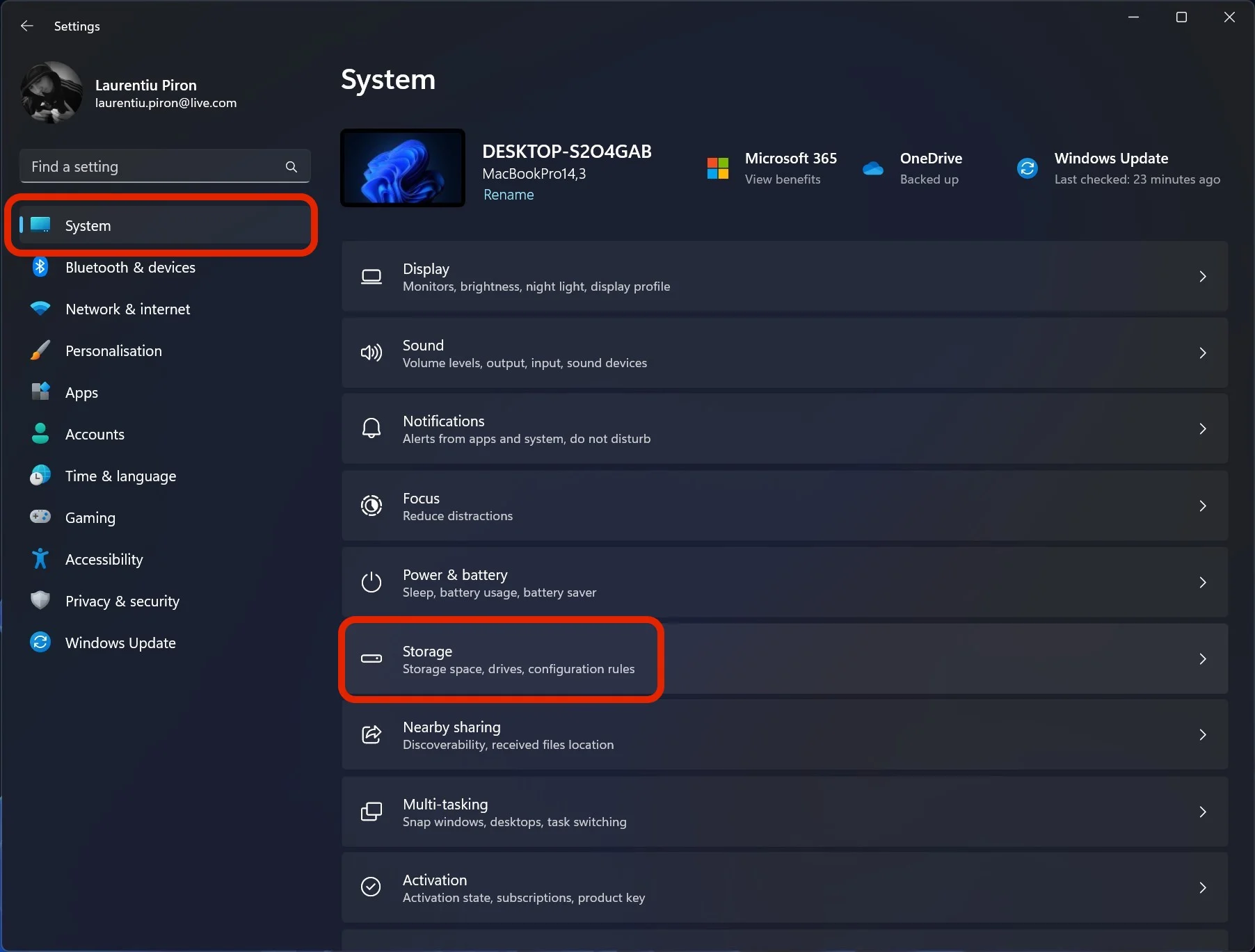 2. In Windows 11 System Storage in the first part we have information about the space occupied on the partitions, temporary files (Temporary Files) and the space occupied by the partitions installed on the operating system.
After this information and options for deleting temporary files, we have sub Storage management option Cleanup recommendations.
The new option Storage from System it's basically the old one Disk Cleanup in Windows 11, presented in another interface, much more advanced and from where the user can see exactly which system or application files can be safely deleted. Without affecting the good functioning of Windows 11.
Delete Windows.old in Windows 11
1. Access Cleanup recommendations then tick "Previous Windows installation(s)" to delete Windows.old in Windows 11.
Previous Windows installaction (s)
Files from a previous Windows installaction. Files and folders that may conflict with the installation of Windows have been moved to folders named Windows.old You can access data from the previous one Windows installations in this folder.
2. Click on the button Clean up from the bottom, we confirm "Continue", then the process of deleting the folder will begin Windows.old from the system partition a Windows 11.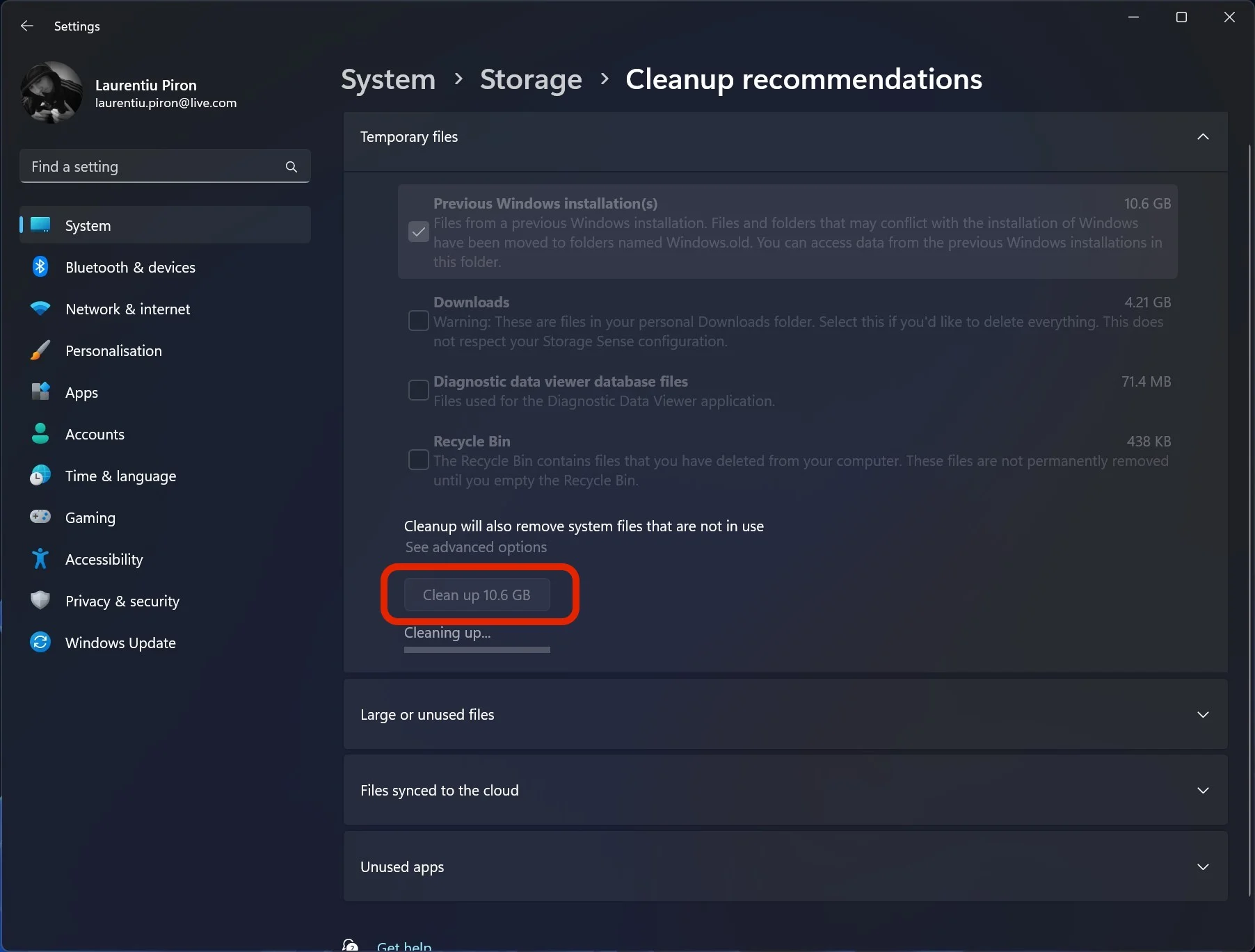 At the end of the process, the folder with the old version of Windows it will be deleted and you will have more free disk space.
Remember that once deleted Windows.old you will not be able to return to the previous version of Windows 11. System Restore will be unavailable.