Sarah Bacon (Product Manager. Yahoo! Messenger), announced today the official blog Yahoo! Messenger The launch of six icons (emoticons / smiley faces) weFor the latest version beta de Y! I . Y! M Emoticon Contest given yield. : D
Cute :). The latter adds sets of emoticons, existing for Y! M. Emoticons si Hidden Emoticons.

We hope to be adapted and version Y! I 8.1. that is more stable and more ok in many ways, than the last beta product Yahoo! Messenger Beta 9.0. Anyway ... this was something like: "I made the ornaments for the cake that is currently in the polenta stage". - ??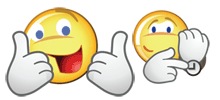 New six emoticons / Yahoo Messenger: bd