Many users Windows 7 complain that laptop battery lets in more inopportune moments. In some cases probably are right, such as when battery is worn and assigns without warning or, again due to wear or who knows what other defects, not consumer grade displays correctly. But in most cases only guilty of sudden drop is very user carelessness.
Depending on how consumers (not to be confused with waste) is a laptop battery, Windowsul avertizeza user about the status. When the battery is low, its icon in sys tray indicate low energyAnd when it reaches level of reserves, Indicate an empty battery icon. At that point it would be most appropriate times to look for a alternative energy source (Ie a feeder) Or whatever you save is what you've worked up to it and close the laptop. Otherwise, the battery will reach critical level and you will be surprised (again) a black screen (once the battery reaches the critical level, the notebook enters hibernation).
But if you happen to do not have time to act after the battery resort to power reserve (Not about searching, not with saving the), which often met the batteries suffering from various diseases of old age, The best thing would be to increase the percentage of power left in the battery for each of the 3 levels.
How can we change the percentage of energy to be notified about the battery discharge levels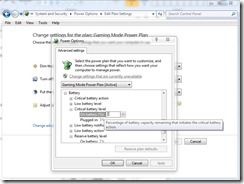 1. open Control Panel> System and Security> Power Options
2. Click on Change plan settings the right power plan you use (eg Power Saver), Then click on Change power settings advenced
3. In Advanced Settings click on + into law Battery to display entries below it. Then expand Low battery level, Critical battery level si Reserve battery level, Change the percentage (%) of right On battery (Remember that indicate what percentage of battery power capacity will go into each of the 3 levels) and click on OK.
Once you have made these changes, you will have more time to discover what level of battery discharge reached before 'take light'.
Battery consumption levels of a laptop in Windows 7