Nokia released after a few days first application for Windows 8 namely Nokia Music. The application provides users Windows 8 same experience that were used on Windows PhoneAt larger though.
Nokia Music not only serves as player for Music collection, But that Online streaming serviceUsers can choose mixes according to Favorite genres, And also can download playlists available so you can listen offline. Additionally, the application provides information pages about artists, biography si tweets Those thereof, and information on concerts and photo gallery.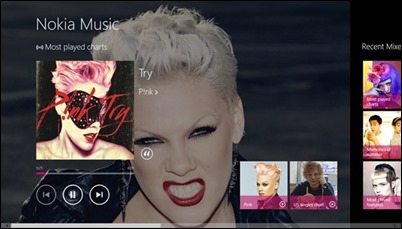 If use Nokia Music + pe Windows Phone smartphone provided, you just need to login with the same data in Windows 8 and you have all feature music store sites on your computer. If you are not subscribed yet, you can test application using the 7 day free trial, Where you will receive superior audio quality songs, mixes available offlineAble to give skip the songs you do not want to listen and synchronized lyrics (When available).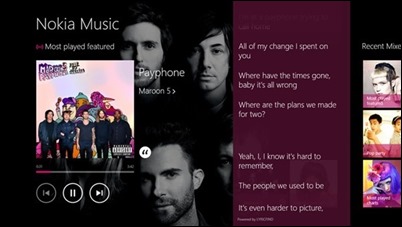 Momentary, Nokia Music for Windows 8 It is available only USA, UK, Ireland si AustraliaBut in the coming weeks will be launched in all regions that is available and application for Windows Phone. But if you do not want to wait, you can install the application on the Windows Store following the instructions below:
open control Panel (type: Windows + R, Write control.exe and give Enter), Then navigating to Clock, Language and Region> Region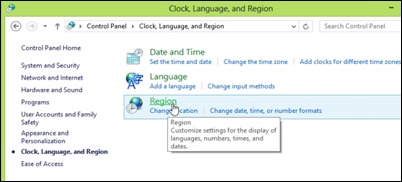 click on the tab Location and select United States (Or any country you want from those mentioned above) that Home locationThen click on OK.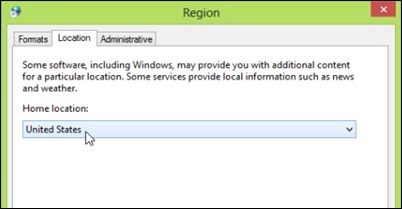 then open Windows Store and install the Nokia Music.
Download Nokia Music (via Windows Store).
Note: To be eligible for the 7 day trial, you must first create a Nokia account (if you have not already).
STEALTH SETTINGS - Nokia Music for Windows 8
Nokia Music for Windows 8