Over the years, our experiences with Orange services were very good. A mobile phone operator who, even if he does not always have it the most advantageous subscriptions si deals on the market, offers stability and innovation. In Romania, he is the only mobile operator to support Wi-Fi Calling at this time. A service I have detailed about in the article: Wi-Fi Calling (Orange Wi-Fi) - What is Wi-Fi calling when we use it, rates and what are the benefits.
Not for a long time, Orange has also turned on television services si cable internet (optical fiber), offering subscriptions with speeds up to 1000 Mbps for the subscription Orange Home Net 1000.
Having a line in the house Internet from UPC cu subscription of 500 Mbps, at the end of which is a modem CONNECT BOX cu Wi-Fi dual band support (2.4 GHz and 5 GHz), I said it's a good idea if I try to upgrade.
After more searches through offers of cable internet operators, the offer from Orange with 1000 Mbps it seemed to us the most advantageous. Since we have been Orange customers for a very long time.
From the very beginning we were surprised to find that both Internet infrastructure and also support for Internet services, are actually offered by Telekom Romania, in a partnership with Orange Romania. Support phone number and other complaints being Orange's. For the customer, this is not a big problem for as long as Orange guarantees the proper functioning of the service and equipment. Even if somewhere in the contract the user is somewhat bound by Telekom Romania.
Request to install the service it went very well, and in about 24 hours I had the Orange line in the house. The installation team has done his job very quickly and very well, not before being recommended by Orange Romania.
After installing the internet line with the subscription Orange Home Net 1000 enabled, the surprise item appeared.
I do not know why and how, but Orange chose it for internet and television subscribers, to come with the modem HUAWEI EchoLife HG8247H (GPON).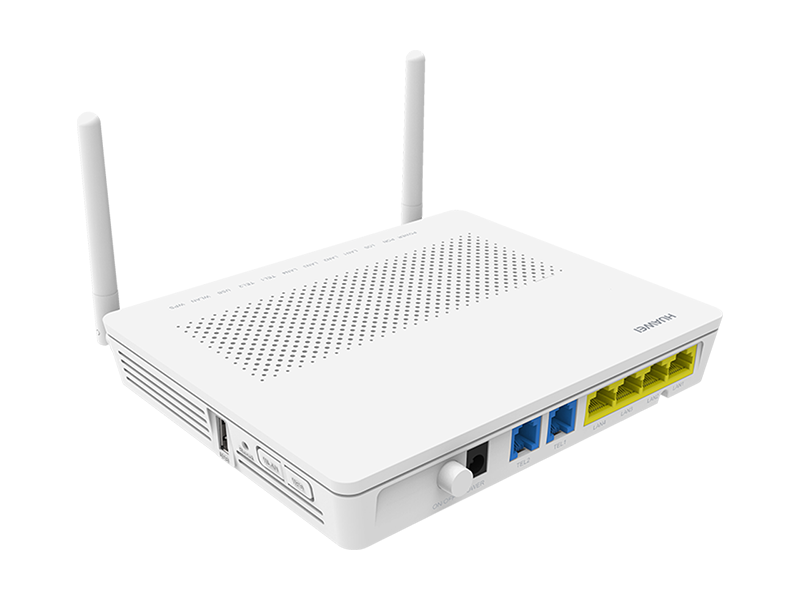 HUAWEI EchoLife HG8247H is a modem for both internet, telephony and TV, and is provided with fiber optic input port. At the internet connectivity side, this modem with Wi-Fi router, has a very big minus that does totally unnecessary a Home Net 1000 Mbps subscription for users who use Wi-Fi connections in home or office. Even those with Orange subscription 500 Mbps could not say they are more profitable.
HUAWEI EchoLife HG8247H uses a very old Wi-Fi standard with only frequency 2.4 GHz with the maximum standard 802.11n. This means that in any scenario of ideal conditions, the maximum theoretical speed on Wi-Fi touched by this router can not be higher than 300 Mbps. This speed of 300 Mbps, supported by HG8247H will share on all the devices connected to it. It's not even better with cable. The maximum speed is 900 Mbps.
As an unfortunate bonus, this modem / the router does not support either the bridge mode, which would involve accepting the connection to a more efficient router, provided with the 802.11ac standard on 5GHz, capable of supporting bandwidth up to 1.3 Gbps (1300 Mbps).
In an identical test, the UPN line with 500 Mbps and the Connect Box router worked at the top speed of the 1000 Mbps line from Orange, with the HUAWEI EchoLife HG8247H router. Connections are made on Wi-Fi 5GHz to Connect Box and 2.4 GHz respectively at Huawei HG8247H.
Reclaiming this at Orange Customer Relationship, it was found that I am right, but at the moment there are no solutions for improve Wi-Fi performance. Orange does not currently have (2017) equipment capable of running on 802.11ac, and thanks to the type DHCP connection cu serial device registered in Orange's subscription activation system, nor the user can not use any other equipment, than that offered by the operator. That irony, he says in the offer as well users get FREE modem with wireless router. Logically, if he did not, he should pay the equipment without which the service could not work.
So, before you do one Internet subscription for home or office, it is recommended to be interested before and what equipment is provided for your subscription Your
The list of Wi-Fi 8002.11 standards for routers and their features are available here: What are the Wi-Fi standards: IEEE 802.11a, 802.11b / g / n and 802.11ac of a wireles routers.
Keep in mind that the internet speed presented in a subscription is the theoretical one that can only be reached in optimal connectivity and hardware conditions. Track the speed will be shared on all connected devices to that router. PC, laptop, mobile phone, tablet, smart TV or any other connected device.
Orange Home Net 1000 - A useless subscription if you use Wi-Fi