Surely, each of you happened to be in the situation where you have to leave for a few minutes in front computerOr because a family member had something quickly searched the InternetOr because a coworker had to access some documentsOr because they simply have felt the need for breaks. In such cases most likely not want to close windows (folders) And the documents you work, but how can restrict access with anyone else?
The solution is to use Free application WinLock, With which users can password and hide in systray open windows with working, preventing other person to access them (to open these windows again require a password).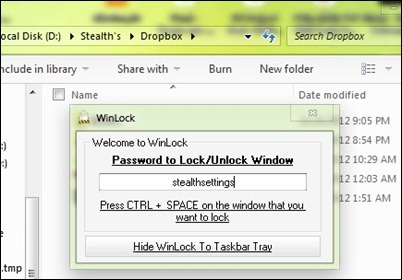 How to use WinLock?
interface WinLock is quite simple, the user must enter password to lock windowsThen pushing the To Hide Taskbar Tray WinLock. Then open the windows you want to password protect and type the key combination Ctrl + Space. Those windows will be minimized si hidden in system trayAnd when you'll want to reopen, will be enter your password WinLock configured.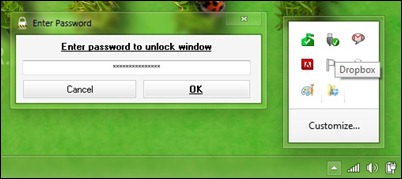 Also, if you want to reopen the tray Winlock, or if you want to close the applicationYou have to enter the same password you configured it after installing (optional, password can be changed with each use the application).
Note: The application can be used for password any active windows are working, whether it's folders, documents or web pages. Compatible with Windows XP, Windows Vista and Windows 8.
STEALTH SETTINGS - Lock any open windows in Windows 7 with Winlock
Paroleaza open windows in Windows 7 with WinLock