Spelling and Grammar Check is probably one of the most disturbing settings default sale Mac OS XEspecially if users do not constantly write in one language.

Highlighted with red writing in texts TextEdit and other applications is pretty annoying and even if it can be disabled, the option Spelling and Grammar se automatically reactivates After reopening the application and / or operating system after restart.
To permanently disable "Spelling and Grammar Check "will have to be very careful about the next steps.
1. To permanently disable spell checking and spelling for all languages ​​in all Mac OS X applications, you'll need to go to System > Library> Services and find the application AppleSpell.service.
AppleSpell.service contains packages that deal with spell checking and correction.
2. Right-click on AppleSelect service and select Show Package Contents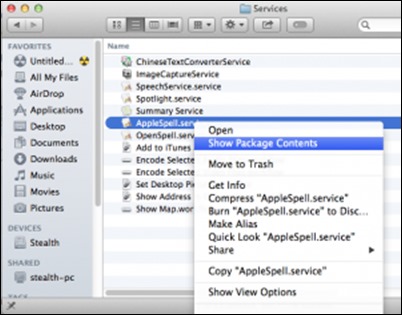 3. Under the folder "Contents"Find"Resources". All you need to do to permanently disable Spelling and Grammar it is to rename this folder (in Resources.disable, for example).
Command in the terminal:
sudo mv /System/ Library / Services /AppleSpell.service / Contents / Resources /System/ Library / Services /AppleSpell.service / Contents / Resources.disabled
4. After you rename the folder "Resources" we restart the process AppleSpell.service with the help Activity Monitor. Double-click AppleSpell.service & Quit.
Now checking and correcting spelling is disabled for all applications on Mac OS X. To activate this option in place, you have to rename the folder "Resources.disable " in "Resources".
Note: Tutorial tested on Snow Leopard and OS X 10.9.1 Mavericks.
STEALTH SETTINGS - Permanently Disable Spelling and Grammar Check on Mac OS X
Permanently Disable Spelling and Grammar Check on Mac OS X