Windows 8 Consumer Preview, launched last day of last monthCame bundled with many updates, among which no start button (Or rather replacing it with a thumb for Start Screen) and Charms menu, Displayed on the right side of the screen, then the mouse and go to the bottom right corner or top right of it, through which we can quickly access certain operating system settings.
CharmBar Customizer is a free application with which users Windows 8 Consumer Preview can Charm personalize menu and settings that it displays, depending on your preference.
Also, with the application, can be customized including icons available on the menu, depending on their courts, in addition allows setting text color displayed, and background menu.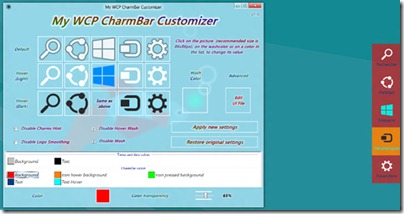 With CharmBar Customizer, users can set and level of transparency desired menu and its most important feature is can reset all changes Charms made menu so that it is brought to initial state, Before performing the modifications.
Thus the application offers users the ability to blend the color Charms menu the theme used for Windows 8, And in acerlasi time certainly offers a mild recovery in appearance and functionality of default it when making radical changes to the menu.
STEALTH SETTINGS - Customize Charms Bar in Windows 8 Consumer Preview
Customize the Charms menu in Windows 8 Consumer Preview