If you're among users who prefer to customize operating systems, Lock Screen Customizer for Windows 8 is an application that will certainly attract attention.
Lock Screen Customizer is a free tool with which users Windows 8 may change background image Lock screen (lock screen) Can set its periodic changes every release made by the user (logon) And in addition allows changing format of time / date of 24 hours (in breakdown mode) in 12 hours or language showing the date on lock screen.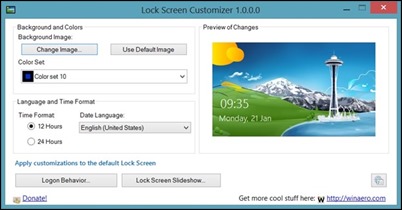 The application also gives users the option to change the background image of the login screen (Enter password screen where sign-in). And users who do not want to use the screen lock also have the option of disable.
How to use Lock Screen Customizer?
after installation (make sure you install the appropriate version for computer architecture you, 32 or 64 bit), Run the application and click Change Image to change the lock screen wallpaper site (You have the opportunity to return to the default by clicking on the image Use Default Image)
to change the format of date / time display select 12 Hours or 24 Hours (Depending on preference) and to change the language that is displayed on click on the field below Data Language (By default it is set to English) to display the drop-down menu where you can select the desired language
To change the Lock Screen background image's every logon, click on the button Lock Screen SlideShow, Check Enable this featureThen select folder containing the images you want to be turned on Lock Screen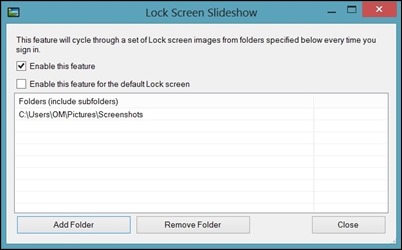 and to disable the lock screen, Click on Logon BehaviorThen tick Disable Lock Screen.
Download Lock Screen Customizer for Windows 8.
Credit @ WinAero
STEALTH SETTINGS - Customize Windows 8 Lock Screen with Lock Screen Customizer
Customize Windows 8 Lock Screen Lock Screen Customizer