social networks They can have a very important role in terms promote articles published pe sites si personal blogs. For this purpose, many publishers create Facebook pages, Twitter accounts and / or accounts Google+. Although the idea is very good and has worked for many publishers, Posting on each social network account whenever a new article is published is an operation that can irritate time consuming.
GrabInbox is a free web service which helps publishers to post articles published simultaneously personal accounts Facebook, Twitter si Linkedin or fan page (fan Pages) from Facebook. Unlike other applications that tabs Separate each social network GrabInbox interface It is easier to use because it works with Notifications which can be easily configured by users. The web application will periodically check for accounts added updates and notifications (depending on how it is configured by the user) and display all the news in real time.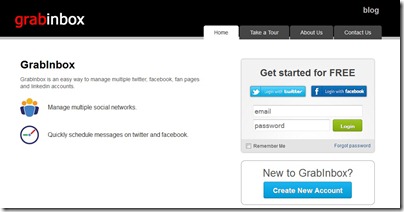 How does GrabInbox?
For starters you have to Authorized service to access Facebook accounts, Twitter si LinkedinAnd after login you can specify the type of notification you want to receive it. In addition, users have the option of Public statuses, updates, articles etc. while on all accounts added, and users Chrome have and an extension (download here) Which they may select social networks I want to publish the updates.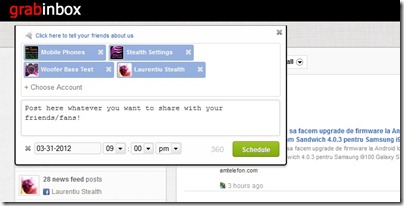 Users also can GrabInbox program promoting items on social networks at a time specified by them, and can track details about what share some (retweet links, likes, etc.) in analytical section web service.
STEALTH SETTINGS - Post to multiple social networks accounts with GrabInbox
Post updates to multiple social networking accounts with GrabInbox