All users Windows encountered at any given time (or several times) with closure accidental (or Automatic, For several reasons, such as the installation of System updates or specific applications) to OS rather inopportune situations that led to pierderea the date or a few good hours of work.
Fortunately, microsoft included in systems Windows un API that applications can use to delay processes shutdown si restart and that gives users the ability to stop this process. ShutdownGuard is a free application for Windows that uses this API to help users to avoid such situations, preventing accidental closure without confirmation or automatic restart of the system.
How does ShutdownGuard?
After installing the application, it places a icon in systray (As a closed padlock), and when a shutdown signal or restart is sent to the computer, if ShutdownGuard active (application can be disabled user) displays a screen which warns the user that the application prevent closing / restarting the system, And gives the opportunity to choose if they want to shut down / restart the system anyway, or if he wants cancellation that process (in Windows XP is displayed notification balloon announcing the closure system user was warned, and if the user wants to continue the shutdown / restart you just need to give click on notification respectively).
Options ShutdownGuard can be accessed by clicking the right- application icon the systray; Users can choose to disable application (Its icon will change to a padlock open), thus allowing the process of shutdown / restart to continue without interruption, and can also set the application to automatically start Windows Startup (How SilentActivated the option Hide tray, Is only compatible with Windows XP; in addition, it is recommended to use this option, because in this way the application does not display any notification when a process shutdown / restart is prevented, users must keep key pressed Shift to display such notice).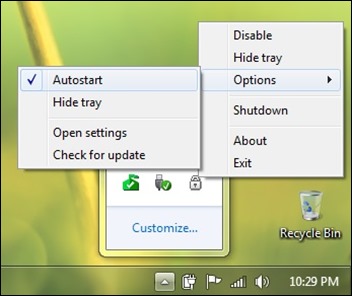 Also, advanced settings of the application are displayed in a INI file (in the form of text), Where users can customize (With a text editor, Such as Notepad) Posts shown to block a shutdown / restart, or other options (such as choice of language the application).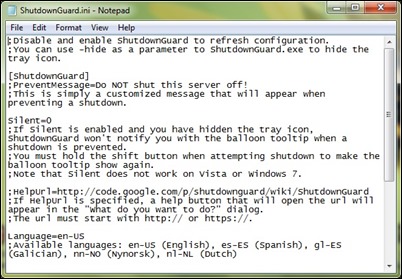 Download ShutdownGuard for Windows.
Note: The application is available only for Windows operating systems (32-bit and 64-bit).
STEALTH SETTINGS - Prevent Windows from shutting down accidentally with ShutdownGuard
Prevent accidental closing of Windows with ShutdownGuard