default settings of the system Windows for energy saving si increasing battery life laptops are closing display when there is no activity for several minutes, and to computer mode Sleep when not reached Mouse or keyboard a certain period of time. After the computer enters SleepAfter another period of time (a few hours), it enters hibernation. Also, some applications or System updates may force the computer to restart or to closeAnd sometimes this can be quite inconvenient (for example when we watch a movie, or when download files quite large on the internet, or when we file transfer to or from other devices).
While energy settings of the system Windows They can be changed control Panel (Control Panel> System and Security> Power Options> Change plan settings), Or we prevent users access the power options the system (Shutdown, Restart, Sleep, Hibernate) of Group Policy Editor> User Configuration> Administrative Templates> Start Menu and Taskbar> Remove and prevent access to the Shut Down, Restart, Sleep and Hibernate commands, And users who are either unwilling to bring changes System settings, or wish to disable only temporary (How long download a certain file, or how long it lasts a movie).
Do not Sleep is a free application si portable (No installation required) to help users prevent Windows from shutting down, restart, sleep or hibernation enter (And even to close the display) When they need to execute certain tasks long (app keeps you alert system as long as at least one window, no matter how small, is active on the screen).
application interface It is very simple to understand and use. To prevent the system to use options Shutdown, Restart, Sleep si HibernateUsers must check the respective options below blocking (Standby/ Hybrid Sleep / Hibernate, Block Shutdown, Log-Off si Screensaver / Turn off monitor).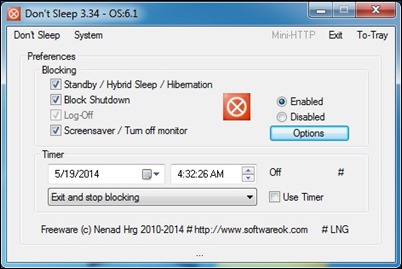 If they want to blocking set just a period of time, They provide a timer, And also may select application actions after finishing period (Exit and stop blocking, Exit and Shutdown, Exit and aggressive Shutdown, Exit and Standby / Hibernation si Disable blocking).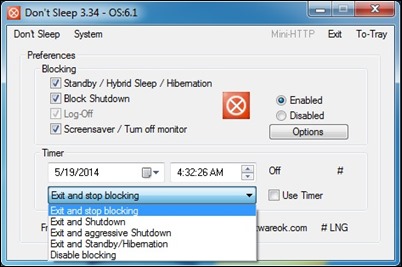 Users can set the program to start with WinXPOr can set timers for Program startup or for cases when the computer is reactivated from Standby by clicking on Options.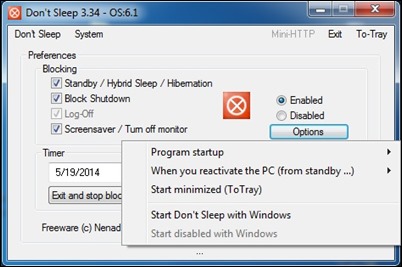 In addition, the application displays direct links by system utilities such as Task Manager, Power config, User account, System configuration and so on in tab System.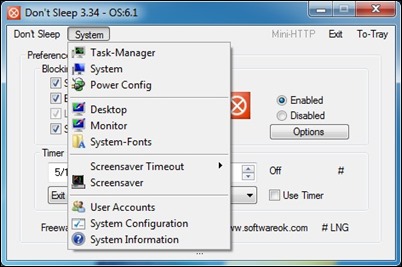 Do not sleep consume very little system resourcesAnd can be minimized in systray (Notification Area) to not bother users.
Note: The application is compatible with Windows XP, Windows Vista, Windows and Windows 7 8.
STEALTH SETTINGS - Prevent Windows to Shutdown, Restart, Sleep or Hibernate with Do not Sleep
Prevent Windows from shutting down, reboot or enter sleep or hibernation with Do not Sleep