Finally microsoft decided to make public the way you look new generation of Windows operating systemsKnown to users as the Windows 8.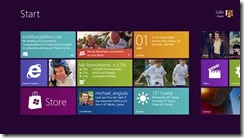 First you have to say to those who wait narabdare launch of the new OS not to let "tricked" by what they see in the video below because Microsoft has specified that these operating systems will be fully compatible with usual keyboardsAnd even will be supported by the current configuration running Windows 7.
Here are some of the features of the new Windows interface:
design resembles 7 Windows Phone Series
Applications launched quickly from a Splash (Fullscreen) composed of tileuri which will replace the current Start Menu
Real-time notifications about applications installed / used displayed in tile sites
ability to resize application quickly depending on screen size
fluid shift between applications running simultaneously
web-based applicationsConnected to the cloud, built using HTML5 si JavaScript
navigation optimized for touch-screens (But compatible, as mentioned above, and the mundane keyboards and mice)
Other news about the operating system Windows 8 it seems like we just get somewhere this fall, and launch it is still planned somewhere 2012 early. But until then we will live and see.
STEALTH SETTINGS - Official Preview of Windows Operating System 8
The official presentation of the new operating system Windows 8