Over time, any computer work increasingly slower than it was when new work wear hard drive and modifying data (add / delete / move) on it being two of the most common causes responsible for the moments of "laziness" of PCs. To ensure that they not honors this too often (we all know how annoying it is to work on a computer that is Think at least three times before they respond to a simple command) is recommended (as required) HDD defragmentation and optimization as often as possible.
If you are among those users who remember to defragment the hard drive only when system falls into a coma, the best would be to automate the defragmentationBoth to avoid such situations and how to increase the lifetime posbil hard drive. It is also recommended to programs and periodic cleaning system (disk Cleanup) For optimization.
How to set run the defragmentation process when the system enters idle?
First, open disk Defragmenter typing Defrag.exe in Search site from Start Menu (Or Run) And giving Enter
then click on Configure Schedule to determine how often you will be automatically defragment your hard drive (frequency, date, time) and select the partition you want to defragment automatically (Select Disks). For example, you can choose zaptamanal defragmentation to occur, every Wednesday at 1 AM. Click OK to save the setting.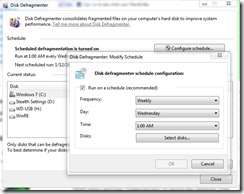 How can automate the periodic running Disk Cleanup system optimization?
open Windows Task Scheduler typing taskschd.msc in Search site from Start Menu or Run
click on Action and select Create Basic Task from the menu, then give a name to the task (eg disk Cleanup) And click on Next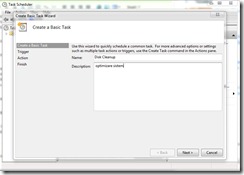 set / set the frequency with which you want to launch the process of cleaning, what day (unless you opt for a Daily optimization) And at what time, or depending on what events (Windows startup, user login etc.), click on Next, select Start a Program and give again click on Next.
click on Browse and navigate to C: WindowsSystem32cleanmgr.exe (Or directly type the path in the field below Program / Script), Then click on Next and on Finish.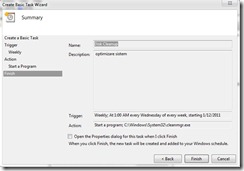 Note: Available for Windows XP, Windows Vista and Windows 7.
STEALTH SETTINGS - Automatically Defrag & Optimize SYSTEM WHEN THE IDLE
Defragment and optimize system automatically when it enters idle