When browsing Internet, The sites they visit places in computers Our so-called cookies, With which the visitor is recognized whenever the returns on sites question. Also, some sites show advertising of some Ad Networks, Those commercials collecting information about visitors in order to determine their interests in order to display targeted ads. Users Firefox who value their privacy online can simply block pursuit of personal information by advertisements or cookies sites visited by a add-on, namely Do Not Track Plus.
Do Not Track Plus How does it work?
After installing the addon, Firefox will send a message to all sites visited singles ("Do not track me.") that gives them understandable to not send cookies to your visitors. This ensures that visitors including activities their respective sites will not be tracked. Do Not Track Plus users can also add manual which are sites which may place cookies (some sites require acceptance of cookies to visitors so that they can be login pe online accounts) In computers (whitelist) Or are sites that under no circumstances be pursued personal information (suchblacklist).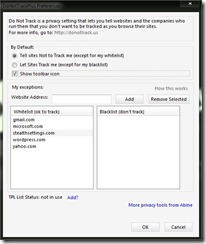 Download Do Not Track Plus (Firefox Add-on).
Note: In Firefox Do Not Track Plus 4 is integrated as a feature (Tools> Options> Applications> Browsing). Internet Explorer also has integrated 9 Tracking Protection feature, which allows users to create lists of protected sites by tracking cookies by other sites.
STEALTH SETTINGS - Tracking Protection with Do Not Track Plus (Firefox Add-on)
Protection against track of Do Not Track Plus online (Firefox Add-on)