Nowadays it is much easier for users to sharing with various files through online storage services such as Dorpbox, SkyDrive and / or Google Drive. Also, the personal files stored in cloud, access their possible from any device with Internet accessin any location. But many users are concerned security files stored online, Since they may contain important personal information.
Whether you want to protected Dropbox accounts, SkyDrive and Google Drive altogether, whether you want to only protect individual folders of these accounts, CloudFogger is the solution for you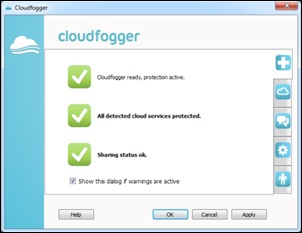 ClouFogger is a free allowing users to encrypt all data it upload onlineSo the informations contained in upload files can not be available only to users of law.
CloudFogger Use transparent encryption, Which makes things pretty simple for users stay local, all files can be accessed in the usual way, while the cloud will be encrypted and protected (option CloudFogger added in context Menu during the installation allows Local encryption of filesBut they will be decoded before use). In addition, CloudFogger allows users to protect only certain folders personal accounts dropbox, SkyDrive si Google DriveSo only those uploaded files in folders will be encrypted, the remaining files (unimportant) remain untouched.
Another important feature of Cloudfogger it can sharing encrypted files with other users. To do this it is necessary to decrypt files before and not give them your password those users simply add e-mail the user that you want to send an encrypted file CloudFoggerThen it will decrypt the file using own user CloudFogger.
Note: CloudFogger will not encrypt files already uploaded in the cloud services you use (you have to delete and reupload these files if you want to encrypt). Application available for Windows, Mac OSX, Android and iOS.
STEALTH SETTINGS - Protect your Dropbox, Google Drive & SkyDrive accounts with CloudFogger
Protect your accounts DropBox, Google Drive and SkyDrive with CloudFogger