Lock ScreenIs especially useful for those who want to block access to MacWhen you go in front of him for a while. After lock screen's access to the system can not be done without the password.
in this small tutorial will show you two simple options Quick lock screenacquis.
The first option is a combination of keys (keyboard shortcuts). Simultaneously press:
CONTROL + SHIF + EJECT
The second method involves adding Keychain Access in the menu bar.
Open Keychain Access, go to Preferences > General (Tab)> tick "Show keychain status in menu bar".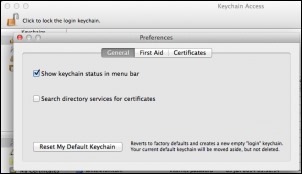 After you tick this option, the menu bar will appear Keychain Access icon (a lock), which gives us access to lock screen's. Lock Screen.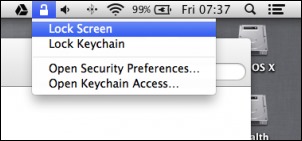 Note: Tutorial tested on MacBook Pro with Mac OS X Mavericks.
STEALTH SETTINGS - Shortcut to lock screen's (lock screen) on Mac OS X
Quickly Lock Screen - Mac OS X