Compared to taskbaracquis on Windows XPand Windows Vista, Windows 7 taskbar It is customizable. In 7 Windows Taskbar show options "Pin to Taskbar"(Option which allows adding a shortcut on the taskbar application) and Jump List (Jumplist - ability to group multiple folders or programs under one icon Taslbar). In addition to the default options 7 Windows Taskbar, there are many applications to modify and add new features in the taskbar.
RAM & CPU Monitor Taskbar for Windows 7 is an application that indicates resource consumption in real-time RAM and processor (CPU).
If you click on the screenshot above you see the backgroundCPC taskbar two lines. One red that goes from left to right and one green leaves reverse. The two lines show resource consumption RAM (Right> left) and CPU (Left> right). Depending on the level of consumption is changing the lengths of the two lines and colors. From green to red.
RAM CPU Taskbar for Windows 7 It is a portable application, so it requires no installation. All you have to do is download the file below and run the application "CPU RAM Taskbar.exe" inside the archive.
download RAM CPU Taskbar for Windows 7
> download link <
RAM CPU Taskbar user application for Windows 7
The application is relatively simple to use. If you choose to use the default settings (pre-set), you just need to run "RAM CPU Taskbar.exe". If you wish to personalize the first tab "Main"Give us some time generale.Intervalul settings (refresh rate) at which to make checking RAM & CPU resources, graphic style of management guidelines and indicators for startup & updates.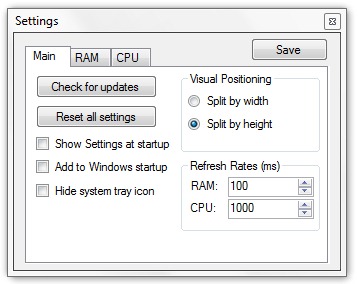 In the tab "RAM"We can choose what power level indicator line to change color, we have the option to choose the position on the taskbar, colors and levels of consumption of RAM what we want to monitor (Physical Memory, Virtual Memory or total Memory / Both)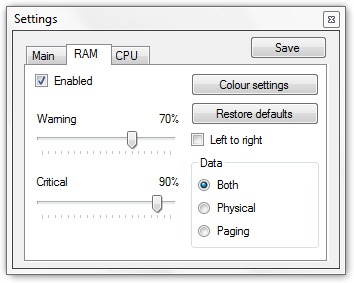 The last tab is the dedicated processor (CPU). Here are some settings that are found in tab "RAM".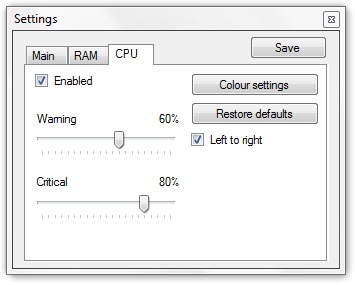 The application consumes about 8MB and can be set to run automatically on startup (option present in the tab "Main"). After launching the application, access to settings is in the system tray (systray). For this application to work you have to set Aero visual style and with a degree of transparency sufcient how to see what is behind the taskbar.
ApLicata tested on Ultimate Windows 7 64bit / x64.
Author application: anonymous-thing.
Stealth Settings - RAM CPU Taskbar for Windows 7.
RAM & CPU Monitor Taskbar for Windows 7